---
I have an affiliate relationship with
Bookshop.org
and
Malaprop's Bookstore
in beautiful Asheville, NC. I will earn a small commission at no additional cost to you if you purchase merchandise through links on my site. Read more on my
affiliate page
.
---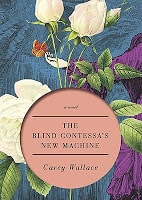 Based true events, The Blind Contessa's New Machine tells the story of Carolina Fantoni and her friend, Turri. Carolina is a beautiful, somewhat solitary girl. She loves to spend time alone down at the little lake her father constructed for her mother. When she gets older, she attracts the attention of the local heartthrob, Pietro. As the wedding draws near, Carolina realizes that she is going blind. She tells her parents and Pietro, but they just brush her off. Turri is the only one who understands and listens.
This was an absolutely beautiful book. Even though it is grounded in reality, I had the feeling that I was reading a fairy tale. It felt so dreamy. Carolina felt a little like a princess under a curse. Pietro was the handsome yet clueless prince. Turri is the thoughtful, overlooked friend. That sounds like a Disney version, but this would have more in common with the Brothers Grimm version than Disney. This is the real world, after all, and Carolina is going blind in the early 1800s. There's no happy ending to be found there.
I appreciated the descriptions of Carolina's encroaching blindness. I could picture exactly what she was seeing and how she was feeling. She judges the progression of her vision loss by looking at some trees on the banks of her lake weekly. She gets frightened, she hopes it's stopping, she even occasionally hopes it's getting better, but deep down she knows that she will inevitably be blind. It all felt so real and I could see myself doing the same things if, heaven forbid, the same should ever happen to me.
When she does become fully blind, she seems to go into a depression. Then she realizes that she has sight in her dreams and the book moves into her fantasy world. She has gorgeous dreams. She mostly stays around her neighborhood, but she compensates for her blindness by granting herself the ability to fly in her dreams.
The contrast between Pietro and Turri's reaction to her blindness is marked but also felt real. There are always people who are going to be uncomfortable with someone else's misfortune and always manage to say the wrong thing. That's Pietro. He honestly does his best and even comes up with one or two thoughtful things for her, but mostly he's just awkward. Turri accepts it for what it is and tries to help her the best he can. He tries to make her life easier, and even tries to help her make the most of the time she has left before total blindness sets in. That's when he stole my heart. In reality, he would be too much of a dreamer for me, but on the page, I loved him.
That thing about how this has more in common with the Brothers Grimm than Disney? I happen to be a fan of Disney. That's all I'm saying, and that's the only reason I can give for knocking the rating back.
And completely unrelated to anything, I love the size and feel of this book. It's only 207 pages in a short hardcover, but I loved the way it fit my hand. Little books like that always draw me in for some reason.
Highly recommended for lovers of beautiful language.
I knew I had to read this after Sarah Addison Allen called it "exquisite" at her launch party for The Girl Who Chased the Moon.