---
I have an affiliate relationship with
Bookshop.org
and
Malaprop's Bookstore
in beautiful Asheville, NC. I will earn a small commission at no additional cost to you if you purchase merchandise through links on my site. Read more on my
affiliate page
.
---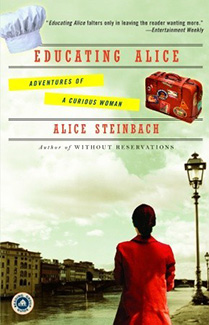 Title: Educating Alice: Adventures of a Curious Woman
Author: Alice Steinbach
Genre: Memoir, Travel
Audience: Adult
Format: Paperback
My Synopsis:
Alice Steinbach makes the time to travel the world again, taking local classes that interest her and observing the cultures she finds. She studies cooking in Paris, Japanese culture/arts in Kyoto, several aspects of Florence, Jane Austen in England, Cuban culture in Havana, the gardens of the south of France, writing in Prague, and training Border Collies for sheepdog trials in Scotland.
My Review:
I loved Without Reservations, Steinbach's first book. I admired her courage in packing up and traveling solo. I liked her thoughts and observations and felt that she is someone that I'd like to know and befriend in real life.
I didn't like Educating Alice quite as much. I felt that the author was trying a little too hard to recapture the magic of her first memoir and lost some of her charm. That sounds harsher than I mean it to, but that's the best I can do.
There's more introspection in this book, which can be good, but I honestly wanted more about the locations. I never got a good feel for some places, such as Prague and Kyoto.
But the places she got right were fabulous.
My husband is a second-generation Cuban-American so Havana naturally interests me. Ms. Steinbach was at her best in her descriptions of this city that time forgot. The old cars, the music, the dancing, the people–I'm ready to pack my bags. The only thing that I disagreed with was her description of the food! She was not a fan and seemed to take it for granted that the rest of the world acknowledges that Cuban food is uninspiring. What?!? Their dishes make my mouth water, they're so rich in flavor and homeyness.
There's a running theme of her letters to Naohiro and her thoughts on their long-distance relationship. Somehow, this all felt unnecessary. Part of the charm is that she's doing this alone. I did like knowing that they were still together and their relationship was growing but those kinds of books are easy to find. Her travels are what make this book special. Again, that sounds harsh and I don't mean it that way–I just feel the book would have been stronger had all of this been trimmed.
Fans of Without Reservations should go ahead and pick this one up; I think you'll enjoy it. I would recommend that new readers give her first memoir a try before reading this one.
Similar Books:
If you liked Educating Alice: Adventures of a Curious Woman, you might also like my reviews of
Purchase:
Buy Educating Alice: Adventures of a Curious Woman from Malaprop's Bookstore in Asheville, NC.
I have an affiliate relationship with Malaprop's Bookstore/Cafe in beautiful Asheville, NC. I will earn a small commission at no additional cost to you if you purchase merchandise through links on my site.