---
I have an affiliate relationship with
Bookshop.org
and
Malaprop's Bookstore
in beautiful Asheville, NC. I will earn a small commission at no additional cost to you if you purchase merchandise through links on my site. Read more on my
affiliate page
.
---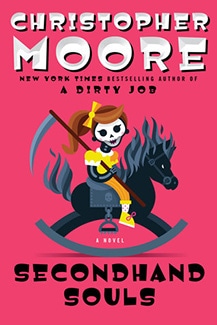 Title: Secondhand Souls
Author: Christopher Moore
Series: Grim Reaper #2
Genre: Humor, Paranormal
Audience: Adult
Format: Hardcover
My Synopsis:
Sophie seems to have lost her mojo at the same time that some freaky stuff starts going down again in San Francisco. The Squirrel People are restless, ghosts are swarming the Golden Gate Bridge, and there's a man in a yellow suit drifting around stirring up trouble. What's going on this time?
My Review:
What this feels like is a contractual obligation. My guess is that Christopher Moore signed a deal for a follow-up to A Dirty Job, time was up, so he knocked this out. I wasn't impressed.
I laughed/cried/snorted my way through A Dirty Job. Seriously. I may have chuckled once or twice this go 'round. Charlie's new body was funny at the end of the first book but once it's sustained for a while and some obvious drawbacks are pointed out, it just got disturbing. Like, I-wish-I-could-scrub-this-image-from-my-mind disturbing. And, yes, thank you, I do actually have an overdeveloped sense of potty humor. But too far is actually too far.
The characters were just kind of more of the same. That should be good since I loved them before, but everybody changes at least a little bit over a year or so. Not these characters. The bad guy(s) are back. Well, there's a different, surprising, leader but the rest is the same. I think we got all the laughs we could out of beating these villains up the first time. I miss Mrs. Ling and Mrs. Korchev. They got a scene or two and they were amusing but that was it. There was a lot more of Lily this time around, and she was funny. Abby Normal shows up for a couple of pages in a throwaway scene. I could go on, but I guess I'll sum this up with "Same characters, only slightly different story."
The ghosts on the bridge confused me. I was probably jet-lagged while I read this, so maybe I just missed it. But they tell these long stories, some funny, some sad, some just random, for no apparent reason. Padding the page count? I don't know. I saw absolutely no purpose.
Somehow, A Dirty Job was funny and crass in a way that I liked but it still had heart. Charlie was doing his best despite being overwhelmingly unprepared for the job. The Emperor is trying to save his city. Death is more than a punchline, and hospice workers are angels on earth. I found that all to be missing now.
I have loved Christopher Moore in the past, and luckily I still have quite a few books from his back catalog left to read, because I think I may be done with him now. I haven't really enjoyed any of his work since 2007. Wow. Except for Bite Me. I do love Abby Normal.
As I write this, the average rating on GoodReads is almost 4.0, so I'm obviously in the minority, but there you go. This one just wasn't for me. Christopher Moore fans will obviously read it. I do highly recommend A Dirty Job but I personally wish I had stopped there.
Similar Books:
If you liked Secondhand Souls, you might also like my reviews of
Purchase:
Buy Secondhand Souls from Malaprop's Bookstore in Asheville, NC.
I have an affiliate relationship with Malaprop's Bookstore/Cafe in beautiful Asheville, NC. I will earn a small commission at no additional cost to you if you purchase merchandise through links on my site.