---
I have an affiliate relationship with
Bookshop.org
and
Malaprop's Bookstore
in beautiful Asheville, NC. I will earn a small commission at no additional cost to you if you purchase merchandise through links on my site. Read more on my
affiliate page
.
---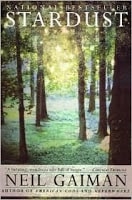 Synopsis from GoodReads:
Stardust is an utterly charming fairy tale in the tradition of The Princess Bride and The Neverending Story. Neil Gaiman, creator of the darkly elegant Sandman comics and author of The Day I Swapped My Dad for Two Goldfish, tells the story of young Tristran Thorn and his adventures in the land of Faerie. One fateful night, Tristran promises his beloved that he will retrieve a fallen star for her from beyond the Wall that stands between their rural English town (called, appropriately, Wall) and the Faerie realm. No one ever ventures beyond the Wall except to attend an enchanted flea market that is held every nine years (and during which, unbeknownst to him, Tristran was conceived). But Tristran bravely sets out to fetch the fallen star and thus win the hand of his love. His adventures in the magical land will keep you turning pages as fast as you can–he and the star escape evil old witches, deadly clutching trees, goblin press-gangs, and the scheming sons of the dead Lord of Stormhold. The story is by turns thrillingly scary and very funny. You'll love goofy, earnest Tristran and the talking animals, gnomes, magic trees, and other irresistible denizens of Faerie that he encounters in his travels. Stardust is a perfect read-aloud book, a brand-new fairy tale you'll want to share with a kid, or maybe hoard for yourself. (If you read it to kids, watch out for a couple of spicy sex bits and one epithet.) –Therese Littleton
I'm pretty sure this is the first book of Gaiman's that I read. I read the novel but I need to get the graphic novel sometime. I have Charles Vess's Drawing Down the Moon, which features quite a few panels from the Stardust graphic novel, and it's beautiful.
Anyway, if you've seen the movie but haven't read the book, you might be disappointed. It seems like that's the way it works. I got to the book first and still love it more. It's just a great, original fairy tale with all the romance, adventure and humor you could ask for.