---
I have an affiliate relationship with
Bookshop.org
and
Malaprop's Bookstore
in beautiful Asheville, NC. I will earn a small commission at no additional cost to you if you purchase merchandise through links on my site. Read more on my
affiliate page
.
---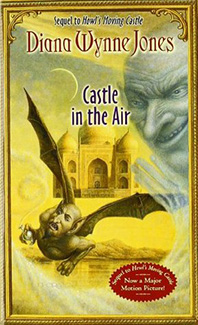 Abdullah is the son of a carpet merchant in the city of Zanzib. His inheritance wasn't much, but he's getting by pretty well. The rest of his extended family picks on him, but it's only once a month and he can take that. One day, a mysterious stranger shows up and sells him a magic carpet. That night, Abdullah falls asleep on the carpet and wakes up in a beautiful garden with a beautiful princess named Flower-in-the-Night. As you would expect, Abdullah and Flower-in-the-Night fall in love over several nighttime visits and plan to run away together. Then an evil djinn kidnaps her. Abdullah swears to rescue her at all costs.
So it's not quite Howl's Moving Castle. It was still a very engaging story with characters that I liked. Abdullah is the plucky protagonist who can only be likened to Aladdin. He's by far the poorest suitor a princess could have, but he's also the most faithful. He's the only man to go in pursuit of the evil djinn. He hits some big snags and faces down danger to save his lady-love.
Flower-in-the-Night was great! She's an intriguing mixture of innocence and wisdom. She's so protected that she's never seen a man except for her father. She's spent a lot of time reading books though, and learning about the world around her. When everything starts to reach its resolution, she's the one with the ideas.
The soldier was completely unexpected. He was a bit of a trickster figure and I could never put my finger on whether he was good, bad, or indifferent. He's a good guy to have on your side in a scrape, but he has a great big soft spot for the kitties.
The book itself was one great big magic carpet ride of a story. Following more in the tradition of The Arabian Nights than Grimm's Fairy Tales, it stayed very true to its roots.
Highly recommended for fans of retold fairy tales. It's not a straightforward re-telling, but it definitely has that feel.