---
I have an affiliate relationship with
Bookshop.org
and
Malaprop's Bookstore
in beautiful Asheville, NC. I will earn a small commission at no additional cost to you if you purchase merchandise through links on my site. Read more on my
affiliate page
.
---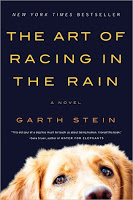 Enzo, the wonderfully perceptive narrator of The Art of Racing in the Rain, is a dog. His master is Denny, a talented race car driver who can't seem to get a break. There is always something that keeps him from realizing his full potential. Enzo is an astute, loyal observer of Denny's life as events spiral out of control around them. With wisdom and compassion, Enzo relates Denny's story with his own incisive commentary.
This review keeps veering off into "Why I Love Enzo," so I guess I'll start there but try to keep it short. He is the friend that is quietly there, always loyal, always listening, and always loving. He's so quietly necessary that it would be easy to take him for granted. Luckily, Denny knows what a good dog he has so that doesn't happen. Enzo has almost a zen take on life and he shares his thoughts in such a way that I wanted to highlight almost the whole book. He believes that good dogs are allowed to come back as men in the next life, and he believes he's reached that stage. I agree. He understands life and being human better than most of us ever will.
Enzo relates some tough times in his life with Denny. There's the adjustment period as Denny gets married and has a child. As Enzo shares very, very early in the book, Denny's wife also dies and there's huge fallout from that. That's where the book got almost infuriating. I was so aggravated with the jerks around Enzo and Denny! I didn't know why Enzo would even aspire to be human when we do such horrible things to each other. But that's where they both actually shine and they have the most to share. It was hard, but when I was able to step back from my gut response and try to understand what there was to learn in this situation, I could see what Enzo was trying to tell me.
The book opens with Enzo lying on the floor, knowing that his time is at an end. He is reflecting on his life with Denny and all that they have learned from each other. That is not a good beginning for me. I absolutely hate sad animal stories. If the animal goes through a lot of trouble but is still alive and happy at the end, I'm alright. If it ends with a one-way trip to the vet, I am almost angry at what I see as emotional manipulation. Death happens, but I don't want to read about it. So I had that hanging over me throughout the whole book. I was trying my best not to get too attached to Enzo, because I knew where this had to be going. But I just couldn't help it. He was such an awesome dog that I had to love him. I won't give anything away, but I will say that if you're like me, I think you'll still be pleasantly surprised by the ending. Don't skip this because you think it's another tear-jerker of an animal story.
A few of my favorite quotes:
"To live every day as if it had been stolen from death, that is how I would like to live. To feel the joy of life, as Eve felt the joy of life. To separate oneself from the burden, the angst, the anguish that we all encounter every day. To say I am alive, I am wonderful, I am. I am. That is something to aspire to."
"I don't understand why people insist on pitting concepts of evolution and creation against each other. Why can't they see that spiritualism and science are one? That bodies evolve and souls evolve and the universe is a fluid package that marries them both in a wonderful package called a human being. What's wrong with that idea?"
"My soul has learned what it came to learn, and all the other things are just things. We can't have everything we want. Sometimes, we simply have to believe."
"You should shine with all of your light all the time."
"We are all afforded our physical existence so we can learn about ourselves."
When you're looking for some hope on a gray day, pick this up and let Enzo lift your spirits. He's got life figured out and he can share it in a way that's easy to understand. You'll love him as much as I did.
Read an excerpt.
Find author Garth Stein on his website, Twitter, and Facebook.
Read more reviews at The 3 R's Blog, At Home With Books, and Fizzy Thoughts.
If you liked The Art of Racing in the Rain, you might also like The Book Thief by Markus Zusak, The Tale of Despereaux by Kate DiCamillo, and Odd Thomas by Dean Koontz.
Buy The Art of Racing in the Rain at
I have an affiliate relationship with Malaprop's, my local independent bookstore located in beautiful downtown Asheville, NC; and Better World Books. I will receive a small commission at no cost to you if you purchase books through links on my site.