---
I have an affiliate relationship with
Bookshop.org
and
Malaprop's Bookstore
in beautiful Asheville, NC. I will earn a small commission at no additional cost to you if you purchase merchandise through links on my site. Read more on my
affiliate page
.
---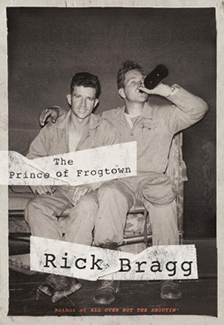 Synopsis:
In The Prince of Frogtown, Rick Bragg sets out to discover the father that he never really knew. I have read these books all out of order, but apparently in All Over But the Shoutin', Bragg painted his father, Charlie, as a no-account mean drunk. After its publication, people who knew his father came to him and said, "I wish you'd talked to me before you wrote all that." So he talked to them and this is the result. His father is still a no-account mean drunk, but Rick and the reader come away with a better understanding of the man.
My Review:
Having now read one of Bragg's books and listened to another, I am torn about the best medium. I'm left thinking that the best thing for everyone would be if his publishers just gave us one of those readalong books I remember from when I was little. "You'll know it's time to turn the page when you hear the chime ring like this: Dlililing!" Man, I loved those things. I could listen to Rick Bragg all day. His slow speech, his accent, his word choice–it's all the language of my family and the stories we tell. We might not be up on a stage telling stories, but we sure can take the smallest event from our days and spin it out into a good long tale. But as I was listening, I found myself just absolutely dying to mark quotes in a physical copy. Whether Bragg was cracking a joke about understanding a woman's thinking (A passage that included mapping the stars on a bubble gum wrapper with chalk and only got better from there), telling a hilarious story about his father scaring his grandmother half to death when he was little, or making a keen observation about fathers and sons or even mothers and sons, there were real jewels in here. And I couldn't mark them or flag them. Readalong books. Are you paying attention, publishers? That's the way to go.
Anyway, I loved this just as much as I loved Ava's Man. It's a darker book because his father had a lot of darkness inside him. But I enjoyed the stories of Charlie as a child and teenager, before he went to war and came back haunted. His life even then was not an easy one and I think we all are left wondering whether he would have turned out pretty much the same way even if he hadn't ever gone to Korea. He had good moments sometimes too, and even though I knew how things had to turn out, I was left hoping that this time he would change his life. He never did and I was left thankful for my own steadfast father.
The book goes back and forth between stories of Charlie and stories about Rick and his stepson. I really liked that setup. It felt like Rick gained a better understanding of his father as he realized how hard fatherhood is if you're trying to do it right. His long-suffering wife deserves an award, I swear. He makes mistakes along the way, but it sounds like he gets it right in the end. The love he feels for his stepson just comes through so clearly as he reads about him, even when he's talking about what a mama's boy the kid is.
I have discovered that I love Rick Bragg's writing, so I'll be searching out all his books. I highly recommend him.
Similar Books:
If you liked The Prince of Frogtown, you might also like my reviews of
Purchase:
Buy The Prince of Frogtown from Malaprop's Bookstore in beautiful Asheville, NC or
---