---
I have an affiliate relationship with
Bookshop.org
and
Malaprop's Bookstore
in beautiful Asheville, NC. I will earn a small commission at no additional cost to you if you purchase merchandise through links on my site. Read more on my
affiliate page
.
---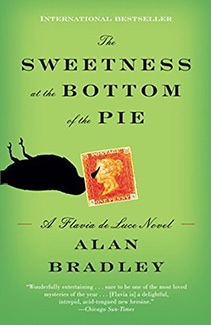 It is the summer of 1950–and at the once-grand mansion of Buckshaw, young Flavia de Luce, an aspiring chemist with a passion for poison, is intrigued by a series of inexplicable events: A dead bird is found on the doorstep, a postage stamp bizarrely pinned to its beak. Then, hours later, Flavia finds a man lying in the cucumber patch and watches him as he takes his dying breath.

For Flavia, who is both appalled and delighted, life begins in earnest when murder comes to Buckshaw. "I wish I could say I was afraid, but I wasn't. Quite the contrary. This was by far the most interesting thing that had ever happened to me in my entire life."
My Review:
I have waited entirely too long to write this review– over a year.
But.
I absolutely loved this story of brilliant little Flavia de Luce. She is going to be intimidating when she grows up. Wait. What am I talking about? She already is intimidating at the tender age of 11 or so. She's a brilliant scientist with an insatiable hunger for knowledge, she's a bratty younger sister, she has a truly wicked sense of humor, and she doesn't see any limits in what she can do. You go, girl.
I had absolutely no idea who had committed this murder or how everything was going to tie together. The story twisted so much on itself that I wondered if the author even had any idea where he was going. In the end, it was obvious that he did.
I listened to this as an audiobook and I eventually came to love Jayne Entwistle's narration. It was touch and go for a bit, I admit. She came across as trying entirely too hard to sound like a young girl, and her rising and falling tone of voice led to some ear-splitting pitches at first. I came around though and now I will be sure to listen to Flavia's future adventures as well.
For those of you who have read Shirley Jackson's We Have Always Lived in the Castle and loved Merricat Blackwood, I think you will love Flavia de Luce as well. I kept picturing scenes of these two diabolical girls together and I have to say, I wanted to be in on the mischief they would inevitably make.
Similar Books:
If you liked The Sweetness at the Bottom of the Pie, you might also like my reviews of
Purchase:
Buy The Sweetness at the Bottom of the Pie from Malaprop's Bookstore in beautiful Asheville, NC or
---