---
I have an affiliate relationship with
Bookshop.org
and
Malaprop's Bookstore
in beautiful Asheville, NC. I will earn a small commission at no additional cost to you if you purchase merchandise through links on my site. Read more on my
affiliate page
.
---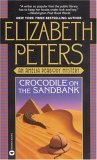 Miss Amelia Peabody is a confirmed spinster. Her father died and left her a comfortable inheritance and she has decided to start traveling to those ancient sites they both loved. She acquires the lovely yet troubled Evelyn as a companion in Rome and she sets off to visit Egypt. There, she meets the Emerson brothers. Younger brother Walter is a nice lad, but the older Emerson? Has a towering temper. The group accidentally fall in together and begin investigating some mysterious appearances around the Emersons' archaeological dig.
I loved Amelia! In real life, I would probably chafe against her decisiveness and take-charge attitude, but safely on the page, she was great! She just ignores facts, people or attitudes that don't fit with what she's trying to do and goes about her business of leading everyone around. Fortunately, she's an intelligent woman, so her plans generally do work out for the best. Of course, she has a good heart under her tough exterior, and I was glad to see her friendship with Evelyn softening her up a little bit. I do love how she writes about Emerson. She calls him a big, hard-headed, stubborn bully every chance she gets, but when she gets close to him, she physically melts a little every time. She admits to it in her writing in moments of softness, then she goes on her merry way, arguing with him again.
Emerson was great too. I didn't feel like I got to know him quite as well as I would have liked in this first book of a series, but he's a good match for Amelia. He's just as stubborn, but he's also passionate about archaeology and quietly yet fiercely loyal. Amelia exasperates him to no end, but he acknowledges her as an equal companion.
The mystery part was not that great, and that's the biggest reason this got knocked down a star. I knew who and why, I just wasn't clear on how it fit together.
I had a lot of fun reading this and recommend it if you're looking for a character-driven light read. I giggled pretty frequently throughout the book, and I will definitely be picking up the next book in the series.