---
I have an affiliate relationship with
Bookshop.org
and
Malaprop's Bookstore
in beautiful Asheville, NC. I will earn a small commission at no additional cost to you if you purchase merchandise through links on my site. Read more on my
affiliate page
.
---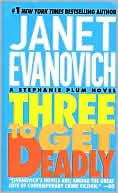 In bounty hunter Stephanie Plum's latest escapade, she's sent to bring in "Uncle Mo," the local candy store owner who has to appear in court for carrying a concealed weapon without a permit. Everybody in Trenton does it, Mo was just the one who got caught. But Uncle Mo doesn't want to come in. And whenever Stephanie finds him, she seems to get shot at or find a body soon afterward. What the heck has Uncle Mo gotten himself into?
I think that you just have to love Stephanie Plum. She's funny, she's in over her head, and she's tormented by gorgeous smartass, Joe Morelli. And she says things like this:
"Ranger declined the butterscotch pudding, not wanting to disrupt the consistency of his blood sugar level. I had two puddings and coffee, choosing to keep my pancreas at peak performance. Use it or lose it is my philosophy."
" Ranger stripped off his sweatshirt. 'Adequate is being able to run five miles. How are you going to catch the bad guys if you can't outrun them?'
'Connie gives the bad guys who can run to you. I get the fat, out-of-shape bad guys.'"
My soul sister!
Morelli is sexy as ever, but he seems to be a little detached from Stephanie and she's not sure she likes it. I'm not sure I like it either. I like me some Morelli.
But there is a little more Ranger. Ranger seems a bit…intense for me. But he is there to help Stephanie when she asks for it, and that counts for a lot. And then he threw out a random Carl Sandburg quote. Is there more to Ranger than meets the eye? I'm willing to find out!
Lula and Grandma Mazur absolutely crack me up. Grandma is lying a little low in this installment, but Lula is hot on Stephanie's heels. The overweight ex-hooker might talk tough, but she can run from gunshots with the best of them. She is absolutely hilarious and I perked up in the scenes she was in, waiting to see what she would come out with next.
The mystery was a little over the top. There were so many bodies piled up in the weirdest places that it got a little absurd. Still, I had no idea what was really going on and it made sense when it was all wrapped up.
I will definitely continue on with the series and recommend it for a good laugh (and some hawt men!)
My reviews of One for the Money and Two for the Dough.
Read an excerpt.
Find author Janet Evanovich on her website, Facebook, and Twitter.
Buy Three To Get Deadly at
I have an affiliate relationship with Malaprop's, my local independent bookstore, and Better World Books. I will receive a small commission at no cost to you if you purchase books through links on my site.