---
I have an affiliate relationship with
Bookshop.org
and
Malaprop's Bookstore
in beautiful Asheville, NC. I will earn a small commission at no additional cost to you if you purchase merchandise through links on my site. Read more on my
affiliate page
.
---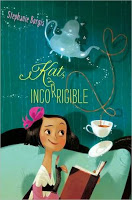 Kat Stephenson is the youngest in her family, but she just might be the most opinionated. Stepmama is trying to improve the family's fortunes by marrying off the eldest daughter, Elissa, to a rich lord. Kat doesn't like it and she sets out to stop it. Little does she realize that she has inherited her mother's magical abilities. Strange things keep happening around her and she just can't stay out of trouble. But she's determined to have her way.
What a cute book! I loved it! Kat is (mostly) adorable. Even when she was irritating me with her absolute refusal to listen to anyone else, I had to admire her for being consistent and standing up for what she believed in.
The story itself took one unpredictable twist after another, and I found that I had finished it before I was ready to be done with it.
I loved the juxtaposition of Kat's incorrigible self and her magic against the backdrop of Regency England. Society has no idea what it's in for!
I'm still not entirely sure exactly what it is a mysterious group of magicians want Kat to do. I felt a little bad for them, but at the same time, they never explained themselves. Maybe Kat didn't give them the opportunity, but still. Who are they? I guess that's what sequels are for!
Kat is by far the star of the show, but I also liked her next oldest sister a lot. Just as feisty, but perhaps even more devious, Angeline is a force to be reckoned with. Elisa is a little bit too prim and proper, but her desire to be a Gothic heroine got a giggle or two out of me.
I'll be eagerly awaiting the sequel to this book, and I highly recommend it. It's a fun, magical romp through Regency England that I think most readers will enjoy.
Kat, Incorrigible is released today in the US!
I received an ARC for review through Shelf Awareness.
Read an excerpt. Please. You'll love it.
Find author Stephanie Burgis on her website, her blog, Twitter, and Facebook.
Buy Kat, Incorrigible (known as A Most Improper Magick in the UK) at
I have an affiliate relationship with Malaprop's, my local independent bookstore, and Better World Books. I will receive a small commission at no cost to you if you purchase books through links on my site.