---
I have an affiliate relationship with
Bookshop.org
and
Malaprop's Bookstore
in beautiful Asheville, NC. I will earn a small commission at no additional cost to you if you purchase merchandise through links on my site. Read more on my
affiliate page
.
---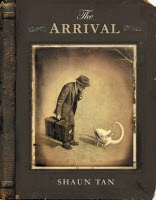 A man leaves his wife and daughter behind to go establish a new life for them in another place. He must learn the ways his of strange new home.
I'm so glad Aths recommended this book. I would never have found it on my own.
Without writing one word, Shaun Tan tells a detailed story about the fears and hopes of going in search of a better life. He has the mood perfectly set within two pages. His decision to illustrate the new city with unbelievable buildings, conveyances, and creatures helps the reader understand how overwhelmed The Arrival must be feeling. He shows scenes of confusion and despair, then kindness and hope. I felt that I knew what it was to be an immigrant, if only for a moment. I really like that he shows immigration to be a sort of cycle. There's the initial confusion, the kindness of strangers, the fitting-in, and then showing kindness to the next new person.
This was shelved in the juvenile section at my local library. I don't know about that. There's nothing graphic or scary, I'm just not sure that a not-teen would understand what was being conveyed. If nothing else, though, it would lead to great discussions between parents and children.
The illustrations are just gorgeous. Sepia-tinted like old photographs, they lend a note of authenticity to the story. It starts to look like something that really happened, despite the fantasy animals. I love the endpapers, with all the beautiful, multi-cultural faces.
I highly recommend this lovely book.
"Read" an excerpt.
Find author/illustrator Shaun Tan on his website.
Buy The Arrival at
I have an affiliate relationship with Malaprop's, my local independent bookstore located in downtown Asheville, NC; and Better World Books. I will receive a small commission at no cost to you if you purchase books through links on my site.