---
I have an affiliate relationship with
Bookshop.org
and
Malaprop's Bookstore
in beautiful Asheville, NC. I will earn a small commission at no additional cost to you if you purchase merchandise through links on my site. Read more on my
affiliate page
.
---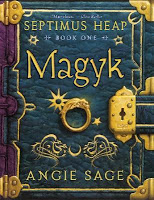 The seventh son of the seventh son, aptly named Septimus Heap, is stolen the night he is born by a midwife who pronounces him dead. That same night, the baby's father, Silas Heap, comes across a bundle in the snow containing a new born girl with violet eyes. The Heaps take this helpless newborn into their home, name her Jenna, and raise her as their own. But who is this mysterious baby girl, and what really happened to their beloved son Septimus?

The first book in this enthralling new series by Angie Sage leads readers on a fantastic journey filled with quirky characters and magykal charms, potions, and spells. Magyk is an original story of lost and rediscovered identities, rich with humor and heart.
Another book I've waited too long to review…
Magyk was a lot of fun to read! Funny and suspenseful, I kept turning the pages right through to the end. That means a lot when you consider that I read it while striding away on the elliptical machine at the gym. The Heap family reminded me a lot of the Weasleys–there were about a million of them, they were talented, and they were poor. But they loved each other a lot and that made everything okay.
I guessed pretty early what was going on but this is a book written for the middle grades; they might not guess as quickly. I've had a lot of practice at this kind of thing!
I need to track down the rest of the series soon. I need to see what's going to happen next!
I recommend this for boys and girls from around the age of 10 and up. They should all tear through it the same way I did!
Read an excerpt.
Find author Angie Sage on Twitter and the Septimus Heap blog.. Check out the Septimus Heap website.
Buy Magyk at
I have an affiliate relationship with Malaprop's, my local independent bookstore located in beautiful downtown Asheville, NC; and Better World Books. I will receive a small commission at no cost to you if you purchase books through links on my site.