---
I have an affiliate relationship with
Bookshop.org
and
Malaprop's Bookstore
in beautiful Asheville, NC. I will earn a small commission at no additional cost to you if you purchase merchandise through links on my site. Read more on my
affiliate page
.
---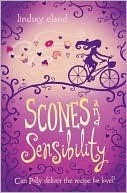 At the tender age of 12, Polly Madassa has discovered Jane Austen and fallen hopelessly in love. Convinced that she's an Austen heroine born in the wrong time, Polly walks around her modern town speaking in Austen's flowery prose. She's only read Pride and Prejudice, and so has not learned Emma's lesson about meddling. Polly goes about delivering baked goods from her family's bakery and trying to spread happiness and love among her neighbors by matchmaking. Of course, as we all know, the course of true love is never smooth, and neither is this summer an easy one for Polly.
A-dor-a-ble.
That's all there really is to say about this.
It's nothing terribly original for an older Austenite, but it's cute for the younger set. Polly is well-intentioned if misguided, and more than a few of us can probably relate to her. Who wouldn't be upset if her older sister neglected her for a boring boy? It's much better to set her up with the new boy in town who is not only handsome but also has a British accent! Right?
Polly is an Emma, and so it was a little hard to feel sorry for her when everything comes crashing down on her, but she's plucky and she's a reader.
This will be perfect for girls who might be a little too romantic for their own good. Moms will probably enjoy reading it with them.
Find author Lindsay Eland on her website, her blog, and Twitter.
Buy Scones and Sensibility at
I have an affiliate relationship with Malaprop's, my local independent bookstore, and Better World Books. I will receive a small commission at no cost to you if you purchase books through links on my site.