---
I have an affiliate relationship with
Bookshop.org
and
Malaprop's Bookstore
in beautiful Asheville, NC. I will earn a small commission at no additional cost to you if you purchase merchandise through links on my site. Read more on my
affiliate page
.
---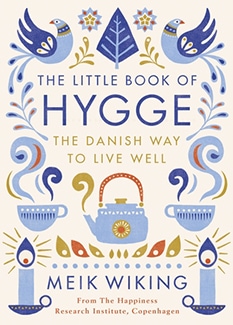 Title: The Little Book of Hygge: The Danish Way to Live Well
Author: Meik Wiking
Genre: Self Help
Audience: Adult
Format: Hardcover
My Synopsis:
Meik Wiking, CEO of Copenhagen-based Happiness Research Institute, outlines why Danes are some of the happiest people in the world. Covering topics from lighting to food, and including recipes and twelve must-have Christmas traditions, Wiking shares the concept of hygge (pronounced hoo-ga) with the rest of the world.
My Review:
The Little Book of Hygge was pleasant enough, but as an introvert, I found very little new information here. I try to maintain a cozy, welcoming home and I've always preferred low lighting. I love candles (although not to the extent that Danes apparently do), sweets, comfort food, and Christmas. My list of close friends is small but I try to see them every time I visit home. I'm apparently already living a hygge lifestyle.
The one idea that I really hope to incorporate when my husband and I stop traveling with his job is hosting a regular night for friends to come over. We tend to meet everyone at restaurants, which limits our time together. A game night or potluck is more personal. Well, it's more hygge.
I found the book to be repetitive. I was truly tired of the word hygge and all its variations by the time I finished reading this. Every fifth word was hygge (that's probably an exaggeration). Mr. Wiking frequently cross references his topics. Considering that it's only 225 small pages with numerous illustrations, I found that curious. I read it in one sitting so there was absolutely no need to tell me that candles were mentioned on other pages every time they came up.
The book itself is a pleasure to hold. It's just the right size to fit my hands, lightweight, with illustrations in a style that I can only describe as Scandinavian. I found myself just enjoying the feel of the paper.
The Little Book of Hygge does have good ideas and I recommend it for people who want to foster a slower, more cozy and intimate lifestyle. Since that's already my preference, others, possibly extroverts, may find more new ideas to adopt than I did.
Purchase:
Buy The Little Book of Hygge: The Danish Way to Live Well from Malaprop's Bookstore in Asheville, NC.
I have an affiliate relationship with Malaprop's Bookstore/Cafe in beautiful Asheville, NC. I will earn a small commission at no additional cost to you if you purchase merchandise through links on my site.
Reading Challenge: