---
I have an affiliate relationship with
Bookshop.org
and
Malaprop's Bookstore
in beautiful Asheville, NC. I will earn a small commission at no additional cost to you if you purchase merchandise through links on my site. Read more on my
affiliate page
.
---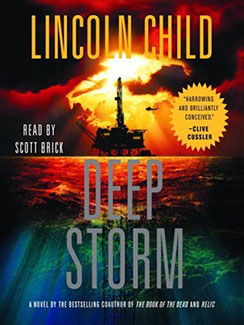 Title: Deep Storm
Author: Lincoln Child
Narrator: Scott Brick
Series: Jeremy Logan #1
Genre: Thriller, Science Fiction
Audience: Adult
Format: Audiobook
My Synopsis:
Peter Crane is summoned to a remote oil rig in the North Atlantic Ocean. A formal naval doctor, he's not quite sure what he's being summoned to. He assumes some workers are suffering from complicated cases of "the bends." But when he arrives, the oil rig has obviously been converted to a different operation. The onsite scientists and military are tight-lipped but they do hint that the drilling team found an artifact of unimaginable importance. Many of the staff report a maddening variety of symptoms, from malaise to nausea to headaches to complete personality changes. Can Dr. Crane get to the root of the problem?
My Review:
This book really wasn't for me for a lot of reasons that might not bother other readers.
The first thing to really irritate me was the mansplaining. A female doctor is already onboard. Instead of treating her as a valued colleague who holds important background information, Crane marches in, assumes she doesn't know anything about rarer diseases, and completely runs over her. Then he wonders why she seems to resent him. It was maddening.
There was also just too much going on. I won't say more because of spoilers, but the more I think back on this, the more disparate plotlines I identify.
I liked Scott Brick's voice, but his narration was just too dramatic all the time. It exhausted me. Think something along the lines of Bones from the original Star Trek series in his best "Dammit, Jim, I'm a doctor not an [insert something implausible here]!" voice.
I honestly don't know why GoodReads lists this as the first in the Jeremy Logan series. Logan does make an appearance but in a very tangential scene that lasted maybe five minutes.
If your priority is thrill and intrigue and you think you can overlook the issues that bothered me, you'll probably enjoy this. If your tastes tend to align with mine, give it a pass.
Similar Books:
If you liked Deep Storm, you might also like my reviews of
Purchase:
Buy Deep Storm from Malaprop's Bookstore in Asheville, NC.
I have an affiliate relationship with Malaprop's Bookstore/Cafe in beautiful Asheville, NC. I will earn a small commission at no additional cost to you if you purchase merchandise through links on my site.
Reading Challenge: