---
I have an affiliate relationship with
Bookshop.org
and
Malaprop's Bookstore
in beautiful Asheville, NC. I will earn a small commission at no additional cost to you if you purchase merchandise through links on my site. Read more on my
affiliate page
.
---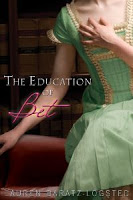 Elizabeth is an intelligent young woman growing up within the constraints of Victorian society. To make matters worse, she is "the maid's daughter." After her mother and the owners of the house where she worked died, Bet is taken along with the heir, Will, to live with Will's uncle. Bet is treated as something between, neither family nor servant. She's allowed to read and study whatever she wants and develops a thirst for knowledge. When Will is kicked out of yet another school, Bet decides that they should each pursue what they want. She assumes Will's identity and heads off to school in his place while he runs off to join the military. But there's much more to becoming a boy than developing bad handwriting, and it's much harder to leave behind a girl's feelings than Bet had expected.
I don't have a whole lot to say about this. I am more than twice the age of the intended audience, hard as that is for me to believe, and so I didn't feel like I read anything new here. Younger audiences will probably feel differently. I couldn't help but compare this to Alanna: The First Adventure by Tamora Pierce. The genres are different (historical fiction and fantasy), but the basic plot is very much the same. I think Alanna was more well-developed.
I liked Bet well enough. She was plucky and stood up for what she believed in, no matter how scared she was. She also pursued her dreams wholeheartedly, knowing that she would regret it if she didn't seize this one chance offered to her.
There's a "revelation" at the end that I saw coming from miles away. Again, though, I am a lot older than the intended audience.
The time line was a little jarring. A new chapter would flash forward pretty far, often in a letter, and then the events would go back to explain what I had just read. I don't mind stories that jump around like that as long as I can see a reason for it, and I couldn't find a reason for this. It just came across as jerky.
While I wasn't exactly thrilled with this book, I do think that younger girls will enjoy reading Bet's story. Even 150 to 200 years later, women and girls are still fighting against restraints, and every forward-thinking girl will probably find something to relate to in Bess.
Buy it on IndieBound or Better World Books.
I have an affiliate relationship with IndieBound and Better World Books and will receive a small commission at no cost to you if you purchase books through links on my site.