---
I have an affiliate relationship with
Bookshop.org
and
Malaprop's Bookstore
in beautiful Asheville, NC. I will earn a small commission at no additional cost to you if you purchase merchandise through links on my site. Read more on my
affiliate page
.
---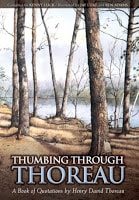 Synopsis from the book's website.
On July 4, 1845, when Henry David Thoreau moved into his cabin on the shores of Walden Pond, he was probably unaware that his abode in the woods, and the impact and influence of that endeavor, would forever echo through time.

Thoreau was an uncompromising idealist; an ardent maverick who criticized his fellow man. He urged that men and women ought to live more simply, and more deliberately. "The mass of men," he famously wrote, "lead lives of quite desperation."

Yet the scope of Thoreau's message is much wider than social criticism. He speaks of spiritual transcendence in Nature and the unbounded potential of the individual. Thoreau is a dreamer and he speaks to dreamers. In a word, shun dogmatism and demagoguery; see beyond the immediate conventional religious explanations to reap a higher understanding.

In our commodified contemporary American society, with the rise of religious intolerance and fundamentalism, materialism and mass consumerism, Thoreau's message is needed now more than ever.

Author Kenny Luck has thumbed through Thoreau's voluminous journals, correspondences and other publications to make this the most comprehensive collection of Thoreau aphorisms available.

Illustrators Jay Luke and Ren Adams lend their talents to artistically interpret Thoreau's vision. Each quote is accompanied by an original drawing.

A collaboration of three individuals breathes new life into the immortal words of Henry David Thoreau.
Thanks to the publicist for sending me an unbound galley for review.
I see this review as being in two parts: the quotes and the format.
The quotes are pretty easy. I think most people already have at least a vague idea as to what Henry David Thoreau was all about. I enjoyed studying the transcendentalists in college, and I enjoyed reading more from Thoreau now. Here are some quotes that I marked from this book:
"I went to the woods because I wished to live deliberately, to front only the essential fact of life, and see if I could not learn what it had to teach, and not, when I came to die, discover that I had not lived."
"It is never too late to give up our prejudices."
"Moreover, any man more right than his neighbors constitutes a majority of one already."
"The stars are God's dreams, thoughts remembered in the silence of his night."
I found several obvious typos, both in Luck's introduction and in the quotes themselves. That feels like a huge no-no in a book of quotations. I did read an advance copy, so I hope that these were corrected before the final printing.
Now for the format. (You can look inside this book on Amazon, so you can see what I'm talking about there.)
Part of the reason I asked to review this was because of the gorgeous cover artwork. I knew this was an illustrated book of Thoreau's quotes, so I fully expected that kind of artwork to be on the inside. It isn't.
There are two illustrators. I am not an artist, so I may get some terms wrong, but hopefully you'll know what I mean. Ren Adams uses "traditional Chinese brush painting techniques." I would describe Jay Luke's style as pen-and-ink. At first I was disappointed because the illustrations were so very spare and I had expected lush woodsy scenes like the cover. Once I thought about it, I realized that the simple black-and-white illustrations on the inside matched Thoreau's "Simplify, simplify!" philosophy perfectly. However. They did start to feel generic. I don't know if the illustrators ran out of ideas or time or something, but I felt there were entirely too many illustrations of dead trees.
The formatting is a little odd too. The font is in varying shades of gray. Important words are in a larger font. I can see why this would seem like a good idea, but in reality, I read the large words with extra emphasis, which led to some odd cadences. The alignment of the text is set to justify, but some quotes were so short they felt like they should have been centered.
Overall, it was a good book with a good idea, but the format was not to my taste. I might have paid more attention than I normally would have because I did receive this for review. Thoreau lovers should be happy with it.
That gorgeous cover is Woodland Visitors, painted by Nicholas P. Santoleri. A limited number of prints co-signed by the artist and celebrities are being sold to assist The Walden Woods Project in conserving Walden woods.
Visit other reviewers on the book tour and see what they thought.