---
I have an affiliate relationship with
Bookshop.org
and
Malaprop's Bookstore
in beautiful Asheville, NC. I will earn a small commission at no additional cost to you if you purchase merchandise through links on my site. Read more on my
affiliate page
.
---
Gustine is a dress lodger (lower class prostitute in an upper class dress) in Sunderland, England in the 1830s. One night she meets Dr. Henry Chiver, a surgeon in disgrace who has promised his small group of students that he will find a human body for them to dissect and study. Unfortunately, there is still a lot of superstition about medicine and doctors and finding a body isn't so easy. Gustine and Henry enter into an agreement to help each other get what they so desperately want.
I tend to be a character-driven reader, and I found that I didn't really like any of the characters in this book. There were probably one or two that I could have liked, Gustine being one, but that didn't really seem to be what the author was going for.
I think Holman was trying to paint a picture of what life would have been like for the lower classes in that time frame in England, and she truly succeeded with that. She put me inside the story, and I read her well-written, picture-perfect descriptions of the working conditions, living conditions, ignorance, fear, hostility, brutality, and just general misery that described the lives of the working poor of this town and shuddered in revulsion and felt a little lot more grateful for what I have, where I live and when I live.
She also succeeded in turning my expectations for the novel and where my sympathies would lie upside-down. I have a bachelor's degree in biology and work in a hospital: I should have been rooting for Dr. Chiver and the triumph of science all the way through. But slowly, insidiously, I found myself being led in another direction without really even realizing it. Let's just say that I have a greater appreciation for what earlier scientists were up against, and the cost their discoveries exacted, both from some of them personally and from society. Related to that, I'll say that I loved her choice of narrator.
I didn't love this, but I do feel like I learned something from it. The descriptions of life for the lower classes in England in Victorian times alone made this a worthwhile read. I just don't really think it's a book to fall in love with, but it is a novel to make you look at your life with new eyes.
Reviewed August 28, 2009
Read an excerpt.
Find author Sheri Holman on her website and Facebook.
Buy The Dress Lodger at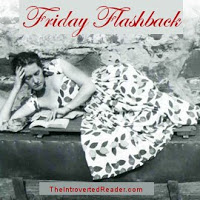 Friday Flashback Reviews are a weekly feature here on The Introverted Reader. These are old reviews I wrote on GoodReads. Thanks to Angieville and her Retro Friday Reviews for the inspiration and encouragement!
I have an affiliate relationship with Malaprop's, my local independent bookstore located in beautiful downtown Asheville, NC; and Better World Books. I will receive a small commission at no cost to you if you purchase books through links on my site.