---
I have an affiliate relationship with
Bookshop.org
and
Malaprop's Bookstore
in beautiful Asheville, NC. I will earn a small commission at no additional cost to you if you purchase merchandise through links on my site. Read more on my
affiliate page
.
---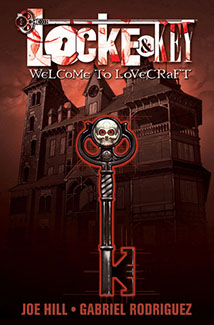 Title: Welcome to Lovecraft
Author: Joe Hill
Illustrator: Gabriel Rodríguez
Series: Locke & Key #1
Genre: Horror, Graphic Novel
Audience: Adult
Format: Hardcover
Locke & Key tells of Keyhouse, an unlikely New England mansion, with fantastic doors that transform all who dare to walk through them. Home to a hate-filled and relentless creature that will not rest until it forces open the most terrible door of them all…
My Review:
Yet another book that I've waited almost a year to review. I recently read the second one and noticed my oversight.
What I remember:
I really, really liked this. I never had any idea where it was going and it just kept getting more and more twisted. I had more questions at the end than I did at the beginning. And I was definitely left with a sinking feeling in my stomach. This situation is going to get way worse before it gets better. I liked the characters a lot. They aren't perfect by any means, but they aren't complete brats either. They fall somewhere in the middle, like all of us. They're doing their best in an unthinkable situation. I love the artwork. It's dark and disturbing but very cleanly drawn. Sometimes the art in graphic novels looks kind of smeary to me, like a comic book that's been loved a little too well. That is not the case here.
I obviously decided to continue with the series and wish I hadn't waited so long to do so. If you like graphic novels and story lines that have you questioning what you think you know, give this one a try.
Similar Books:
If you liked Welcome to Lovecraft, you might also like my reviews of
Purchase:
Buy Locke & Key Volume 1: Welcome to Lovecraft from Malaprop's Bookstore in Asheville, NC.
I have an affiliate relationship with Malaprop's Bookstore/Cafe in beautiful Asheville, NC. I will earn a small commission at no additional cost to you if you purchase merchandise through links on my site.