---
I have an affiliate relationship with
Bookshop.org
and
Malaprop's Bookstore
in beautiful Asheville, NC. I will earn a small commission at no additional cost to you if you purchase merchandise through links on my site. Read more on my
affiliate page
.
---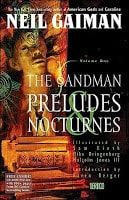 A magus trying to capture Death captures her younger brother, Dream, instead. He's trapped like a goldfish in a bowl for 70 years, a time when the "sleepy sickness" took over the earth. Some people slept through a lifetime. But the Sandman has patience and he has time to plan his revenge.
I haven't read that many graphic novels. Really, I've only read graphic novel memoirs and Coraline. So this genre is pretty new to me.
I wasn't hugely impressed, but that's just me. Although I have read a lot of reviews that say this first volume is just okay and it gets better from here. I like the basic idea of the story, and I have to say that I am hugely impressed by all the myth and story Gaiman has worked into the storyline. I know I missed some of it, but what I caught was seamlessly integrated and impressive in its scope.
By the end, it had gotten way too dark and disturbing for my taste. That's all I'll say.
I did like the way that The Sandman is depicted. He looks very badass (and somehow like Gaiman himself, but maybe I'm projecting) and I do like the long, flowing cape. I also love the covers that Dave McKean did. I stopped at every one to inspect it carefully, and I honestly rarely do that with artwork in books.
That's really all I have to say. Judging by this one, I probably wouldn't continue with the series. There's just enough potential, and I've heard just enough about the rest of the series for me to give one or two more volumes a try. Those who are well-established fans of graphic novels will probably like it more than I did.