---
I have an affiliate relationship with
Bookshop.org
and
Malaprop's Bookstore
in beautiful Asheville, NC. I will earn a small commission at no additional cost to you if you purchase merchandise through links on my site. Read more on my
affiliate page
.
---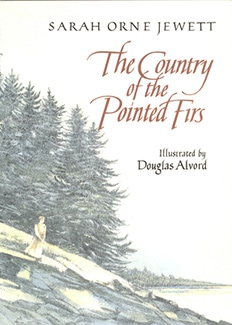 Title: The Country of the Pointed Firs
Author: Sarah Orne Jewett
Genre: Classics
Audience: Adult
Format: Paperback
My Synopsis:
A woman spends a couple of summers in a small town on the coast of Maine. She becomes a part of the everyday life thanks to her garrulous landlady and becomes privy to many of the residents' life stories.
My Review:
I read this back in college and loved it so much that I still have my copy from that class. I decided to re-read it when my husband and I visited the coast of Maine last month. I might love it even more now.
The narrator, who remains unnamed, is accepted in this tightly-knit community, but she's still enough of an outsider that she's able to see how special it is. The locals just know it as home. They don't exactly take it for granted but they don't realize that it's combination of beautiful scenery, caring neighbors, and colorful personalities make it unique.
This novella consists of many smaller stories and a host of characters that come to life in the pages. The old sea captain who still mourns his wife. The sweet, elderly mother who shines so brightly with an internal radiance that everyone who meets her loves her. The shy older brother with his own, unsuspected story. The woman who is the Queen's twin. The tragic hermit, living alone on her island. No one gets very many pages but I loved them all.
The scenery is described perfectly, and, now that I think about it, may have sparked my desire to visit Maine. Reading it while I was there made it all the more special.
This is a quiet book and won't appeal to everyone. There's not a lot that actually happens. Readers looking to escape to a simpler place and time will love it. I suspect that L. M. Montgomery's grownup readers will be fans of Sarah Orne Jewett.
Similar Books:
If you liked The Country of the Pointed Firs, you might also like my reviews of
Purchase:
Buy The Country of the Pointed Firs from Malaprop's Bookstore in Asheville, NC.
---