---
I have an affiliate relationship with
Bookshop.org
and
Malaprop's Bookstore
in beautiful Asheville, NC. I will earn a small commission at no additional cost to you if you purchase merchandise through links on my site. Read more on my
affiliate page
.
---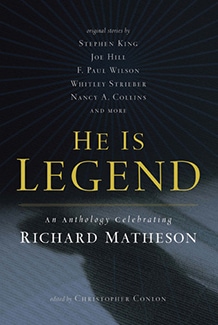 Title: He Is Legend: An Anthology Celebrating Richard Matheson
Editor: Christopher Conlon
Authors: Stephen King, Mick Garris, John Shirley, Thomas F. Monteleone, Michael A. Arnzen, John Maclay, Barry Hoffman, Whitley Strieber, Nancy A. Collins, Ed Gorman, Joe Hill, Richard Christian Matheson, William F. Nolan, Gary A. Braunbeck, Joe R. Lansdale, F. Paul Wilson
Genre: Horror, Science Fiction
Audience: Adult
Format: Hardcover
I haven't read that much Richard Matheson, just one short story collection containing I am Legend, but I enjoyed it immensely. I don't remember where I came across this collection, but when I saw the combination of Richard Matheson, Joe Hill, and Stephen King, I added it to my wishlist. Like any anthology, this was a mixed bag, but pretty strong overall.
"Throttle" by Joe Hill and Stephen King–I found this, not surprisingly, to be the strongest story in the collection. It was an edge-of-your-seat tale of a rogue trucker vs. a motorcycle gang with a nice twist at the end. 4.5 stars
"Recalled" by F. Paul Wilson–This is a sequel to Matheson's story, "The Distributor," which I haven't read. I didn't have any trouble following it or enjoying it. I imagine readers of the source material will find it very satisfying. 4 stars
"I Am Legend, Too" by Mick Garris—This one's a prequel, set just as the outbreak begins. The author imagines what Neville's envious neighbor's last day was like. 3 stars
"Two Shots from Fly's Photo Gallery" by John Shirley—Loosely based on "Somewhere in Time," this story is about a man time traveling back to the shootout at the OK Corral in an effort to save his wife in the present day, with results that are somewhat predictable. The actual ending was a surprise to me though. 3 stars
"The Diary of Louise Carey" by Thomas F. Monteleone—Told from the point of view of the wife of The Shrinking Man, this entry was kind of creepy and disturbing. 3 stars
"She Screech Like Me" by Michael A. Arnzen—This story was a sequel to "Born of Man and Woman," which I haven't read. I liked it but I feel like I would have enjoyed it more if I had known the back story. 3 stars, probably just because of my ignorance.
"Everything of Beauty Taken from You in This Life Remains Forever" by Gary A. Braunbeck—I liked this follow-up to "Button, Button." There's a transition toward the end that felt a bit awkward but it led to a satisfying twist. 3.5 stars
"The Case of Peggy Ann Lister" by John Maclay—Someone is Bleeding is updated in this sequel. While femme fatale crime fiction isn't really my thing, this story was well-written. 4 stars
"Zachry Revisited" by William F. Nolan—I haven't read "The Children of Noah," the story that precedes this one, but I didn't feel I needed to. It was horrifying in a very Greek tragedy kind of way. 4 stars
"Comeback" by Ed Gorman—Inspired by "The Finishing Touches," this tale of a modern rocker and the friends he left behind in order to jump start his career is a bit disturbing because it's utterly believable. 4 stars
"An Island unto Himself" by Barry Hoffman is described as "A Variation on 'Disappearing Act.'" It started off strong and then fizzled out at the end for me. I was left feeling like I'd missed something. 3 stars
"Venturi" by Richard Christian Matheson—Matheson's son wrote this story, inspired by "Legion of Plotters." I kind of wanted more context but that honestly would have ruined the effect. It was a great story that made me feel like I was losing my mind right along with the main character. 4 stars
"Quarry" by Joe R. Lansdale—I have read "Prey," the story on which this one is based. It freaked me right out. This one did too. 4.5 stars
"Return to Hell House" by Nancy A. Collins–Hell House, I think, would be a bit intense for me. I like to read horror but I have to choose carefully. I can't read about demons at all. Horror movies are almost all a bad idea. I'll be up all night, terrified. "Return to Hell House" is a prequel that fans of graphic haunted house movies will probably enjoy. It was not my cup of tea and it was by far the longest story of the group. 2 stars
"Cloud Rider" by Whitley Strieber is based more on Matheson's collected body of work than on any particular piece. A regular guy finds himself battling unimaginable forces of greed and nature. I loved it. 4.5 stars
I do recommend this anthology for anyone who's a fan of Matheson's work. You might not like every story, but you'll probably find several you do enjoy. I plan to read more works by some of these authors who are new to me as well.
Similar Books:
If you liked He Is Legend: An Anthology Celebrating Richard Matheson, you might also like my reviews of
Purchase:
Buy He Is Legend: An Anthology Celebrating Richard Matheson from Malaprop's Bookstore in Asheville, NC.
I have an affiliate relationship with Malaprop's Bookstore/Cafe in beautiful Asheville, NC. I will earn a small commission at no additional cost to you if you purchase merchandise through links on my site.