---
I have an affiliate relationship with
Bookshop.org
and
Malaprop's Bookstore
in beautiful Asheville, NC. I will earn a small commission at no additional cost to you if you purchase merchandise through links on my site. Read more on my
affiliate page
.
---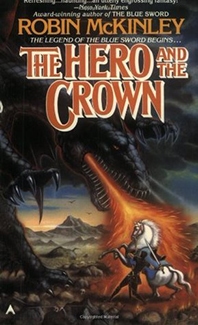 Title: The Hero and the Crown
Author: Robin McKinley
Series: Damar #2
Genre: Fantasy
Audience: Young Adult
Format: Paperback
My Synopsis:
Aerin is the first sol (think princess) and a bit of a disappointment to her people. With fair skin and red hair in a country of olive-skinned brunettes, it's obvious that she's not entirely Damarian. Rumor has it that her mother was a witch from the North who captured the king's heart with her magic. So Aerin's always stayed in the shadows. As she gets older, she starts to find her place in her father's court. She rescues his injured warhorse and goes to work fighting the little dragons that are dangerous pests in the countryside. And then one day a dragon awakens who isn't so little.
My Review:
Man, this took me right back to my tween years. I can't begin to explain it because I've never read this book before, but it just had that '80s feel. It's a quest book with a strong female lead, short and to the point. The author isn't trying to get a movie deal or spread a plot thinly over a never-ending series. I did get worried about a love triangle at one point but hallelujah! We pretty much avoided it. It's just a good, solid story that I would have adored when I was about 12 or 13 and which I found entertaining and nostalgic today.
I liked Aerin and Tor and Talat and Luthe. I couldn't wait for Galanna to get her comeuppance. I was dying to know more about the world and especially about Aerin's mother. The book is complete as it is, but for all my complaints about book series, I am glad there's a sequel to The Hero and the Crown and that I already own it. I hope I get a few more answers.
I have no idea what anyone outside my 30-something bracket would think of this but if you're a fantasy reader in my age group, you definitely have to check it out.
Similar Books:
If you liked The Hero and the Crown, you might also like my reviews of
Purchase:
Buy The Hero and the Crown from Malaprop's Bookstore in Asheville, NC.