---
I have an affiliate relationship with
Bookshop.org
and
Malaprop's Bookstore
in beautiful Asheville, NC. I will earn a small commission at no additional cost to you if you purchase merchandise through links on my site. Read more on my
affiliate page
.
---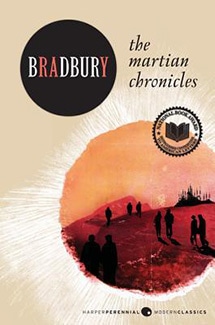 Title: The Martian Chronicles
Author: Ray Bradbury
Genre: Science Fiction, Classics, Banned/Challenged
Audience: Adult
Format: E-book
My Synopsis:
In a series of short stories and scenes, Ray Bradbury explores what the initial colonization of Mars might look like. He begins with stories told from the Martians' point of view and moves on to that of the settlers from Earth.
My Review:
I honestly picked this up for a reading challenge, not expecting to enjoy it. I do love fantasy but science fiction isn't really my thing, with only a few exceptions. I read Fahrenheit 451 back in 8th grade and didn't care for it, but there was very little reading that I had to do for school that I did like. Imagine my surprise when I looked forward to picking up this book.
I almost don't want to even call this science fiction. It's set on Mars in the future, sure, but the stories focus more on the people of Earth and their reactions to the situations they find themselves in.
Bradbury got that part so very right.
A story or two didn't ring true but the rest absolutely did. The various outlooks of the people, the colonists and the order in which they arrived, their attitudes to the new planet–all this and more were addressed in this collection.
It was written in third person, which isn't really my favorite style. In this case, it helped me to feel that each character was standing in for more people who thought and reacted the same way he or she did. That probably doesn't even make sense. By keeping the focus out and painting the characters in broad strokes rather than in details, I could imagine anyone as any character, making the themes more universal.
That's really all I have to say. Don't let the fact that this is science fiction put you off. I found it to be more of a generalized, fascinating character study than anything else.
Similar Books:
If you liked The Martian Chronicles you might also like my reviews of
Purchase:
Buy The Martian Chronicles from Malaprop's Bookstore in Asheville, NC.
I have an affiliate relationship with Malaprop's Bookstore/Cafe in beautiful Asheville, NC. I will earn a small commission at no additional cost to you if you purchase merchandise through links on my site.