---
I have an affiliate relationship with
Bookshop.org
and
Malaprop's Bookstore
in beautiful Asheville, NC. I will earn a small commission at no additional cost to you if you purchase merchandise through links on my site. Read more on my
affiliate page
.
---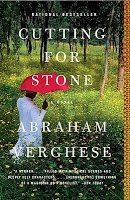 Twins Marion and Shiva Stone are orphaned when their mother, a nun, dies in childbirth and their father denies them. They are blessed to be taken in and raised by an Indian woman who loves them with every fiber of her being. Cutting for Stone primarily follows Marion as he grows up in Ethiopia and then immigrates to the US.
That's a pretty weak synopsis, but it's hard to capture this book in just a few sentences.
It started off just a little slow, which is why I'm only giving it 4.5 stars. I could see the potential for a fantastic story so I kept reading, but the entire first part–131 pages–is technically only one day with a lot of flashbacks and back story thrown in. I started to feel like, at this rate, the twins might be a week old by the time I finished this 658 page book.
But then it picked up and I never looked back. In fact, I sat down to read for just a few minutes while I was eating dinner one night and I finished the last 150 pages of the book. I just could not put it down. I was fully invested in what happened with Marion by then, and that's about the point where I really and truly started to worry for him.
I liked reading about Addis Ababa and Ethiopia. I hate to admit it, but before reading this, I couldn't have even told you which country Addis Ababa was located in. I would have taken a guess at somewhere in the Middle East and been completely wrong. And who knew that it's at an elevation of about 8000 feet and it's cool and misty? That doesn't fit my "We Are the World" image of Africa. As soon as I finish this review, I have a ton of post-its in my book marking places and facts I want to look up and learn more about. I don't really do that very often, but I'm obviously ridiculously ignorant about this part of the world.
This is such a big, epic story that it's hard for me to really say what I think. I hear epic and I tend to think about fantasy books and their pages and pages of characters and relationships, and that's not the case here. It's just epic in that it covers only a few characters' lives but those characters have stories worth telling. They travel around from India to Ethiopia to the US, showing a lot of culture and history along the way.
I love that very few people in this "family" are actually related, but they couldn't love each other more if they tried. I don't know why that kind of storyline always resonates with me when I have a big extended family that I love dearly, but it does. I guess I like to think that those who are unfortunate enough to be born into crappy families have the choice to build their own good families.
I did love the characters. They were complicated and felt real to me. My favorite just might have been Ghosh. He's probably the least complicated, but he has a heart full of love and wisdom, loves a good time, and has a wicked sense of humor. Hema is so fierce that I couldn't help but love her too. Thomas Stone is a little bit of an enigma throughout the whole thing. I was glad that I finally got some of his background so I could try to understand where he was coming from. The Matron is such a practical nun that I had to respect her as well. I'm not sure how much faith she had after years of struggling to help poor Ethiopians, but she did whatever she had to in order to continue caring for them. I don't even know what to say about Genell. My feelings about her veered around wildly, so I won't say anything in order to avoid spoilers. Sister Mary Joseph Praise. She's not even fully present in the story, but she's the connection between all these people. They love her, so I had to as well. You get her background pretty early on, and my heart just broke for her.
Then there's Marion and Shiva. I didn't understand Shiva, I admit. I don't know if his traumatic entrance into the world made him the way that he was, but he was just different. He was almost impossible to know and could best be described as amoral. He does what he wants and doesn't quite seem to understand the point of society's laws and rules of behavior. I couldn't blame him for what he was. Marion seemed to get all the heart and the nobility. He tries so hard to do what's right and respect others. He genuinely wants to help people. I was rooting for him all along.
I highly recommend this book. Stick with it through the first section, and I promise the payoff will be worth it. I can't wait to discuss this tonight with my book club!
Edit: I wrote this review last week, and we had a great discussion for our first "real" meeting. We all loved it! Ironically, we met at a Jamaican restaurant, where one of the dishes was named after the Ethiopian emperor in the book. I was the nerd who picked up on that little nugget.
Read an excerpt.
Find author Abraham Verghese on his website, Twitter, and Facebook.
Buy Cutting for Stone at
I have an affiliate relationship with Malaprop's, my local independent bookstore located in beautiful downtown Asheville, NC; and Better World Books. I will receive a small commission at no cost to you if you purchase books through links on my site.