---
I have an affiliate relationship with
Bookshop.org
and
Malaprop's Bookstore
in beautiful Asheville, NC. I will earn a small commission at no additional cost to you if you purchase merchandise through links on my site. Read more on my
affiliate page
.
---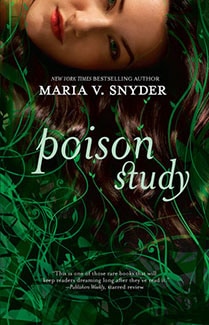 Title: Poison Study
Author: Maria V. Snyder
Series: Poison Study #1
Genre: Fantasy
Audience: Young Adult
Format: Paperback
My Synopsis:
Yelena is awaiting execution for the murder of an important official's son when she is dragged out of the dungeon in chains one day. Expecting to be hanged, she is surprised when she is taken to her country's spymaster and offered the choice between instant death or becoming the Commander's new food taster. As Yelena replies, she is not a fool.
My Review:
I just loved Yelena. She is so smart, sarcastic, ever-hopeful, and talented in ways that even she doesn't realize. She's the biggest reason I rated this book five stars. So my question is, with all the kick-ass female characters out there for teen girls to read, why is whiny Bella the one that most seem to have latched onto? There's Yelena in this book, Katsa in Graceling, and Katniss in The Hunger Games. I'm sure there are more that I haven't found yet. I want to start hearing about a strong female with a life of her own for a change!
Anyway, I did have two minor complaints. The first was the font in my copy. It was alright, but the f's were too wide, so that when they were next to another tall letter, my eye tripped over the word and read a space where there wasn't supposed to be one. I wish I could show you what I actually mean. But this is how it sort of looked:
"Your drink was laced with a poison called Butterf ly's Dust. Mine wasn't. The only way to detect Butterf ly's Dust in a liquid is to gargle it."
The other thing I disliked was Valek's name. Oh, believe me when I say I liked Valek himself and hope that I get to read more about him in the sequel, but that name kills me. I know I'm probably at least a decade older than most readers of this book, but for that decade, my 401(k) stuff has been administered by a group called VALIC. You see my problem? VALIC is boring. I'm struggling a little with the name Valek.
Other than those two things, I loved the rest of the book. I already mentioned Yelena, but the other characters were great, the pacing was just right for me, and the twists the story took were believable and fun to read about.
This book wrapped up pretty nicely on it's own, but there is some set-up for the sequel. I can't wait to get my hands on it! I want to see what happens, of course, but there's just one little hint in this book about some characters we might get to meet in Magic Study, and they sound intriguing, to say the least.
I highly recommend this for a good fast-paced read with a great female character. I will add that I know this is marketed a lot toward young adults, and that's fine, but I personally would hesitate before handing it to a younger teen. There were just a few scenes that I probably wouldn't have minded at that age (let's be honest–I would probably have searched them out!), but, having read the book, I can't picture giving it to my younger cousin until she's about fifteen or so. But I will try to remember to hand it to her when she's that age. It was just so great!
Similar Books:
If you liked Poison Study, you might also like my reviews of
Purchase:
Buy Poison Study from Malaprop's Bookstore in Asheville, NC.
I have an affiliate relationship with Malaprop's Bookstore/Cafe in beautiful Asheville, NC. I will earn a small commission at no additional cost to you if you purchase merchandise through links on my site.