---
I have an affiliate relationship with
Bookshop.org
and
Malaprop's Bookstore
in beautiful Asheville, NC. I will earn a small commission at no additional cost to you if you purchase merchandise through links on my site. Read more on my
affiliate page
.
---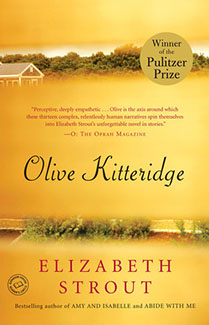 Title: Olive Kitteridge
Author: Elizabeth Strout
Series: Olive Kitteridge #1
Genre: Contemporary Fiction
Audience: Adult
Format: Paperback
My Synopsis:
Olive Kitteridge is the story of a very complex woman, the story of a marriage, the story of a small town, the story of desperation, hope, kindness, cruelty, love, and betrayal. In short, it's the story of humanity.
My Review:
Olive is obviously at the heart of this collection of stories. It's very easy for fictional characters to be all good or all bad. I had moments where I hated Olive, cheered her on, admired her, pitied her, and even loathed her. But if you look deeply inside all of us, isn't that the way we would really feel about everyone? We see Olive's warts, but we see that she's constantly learning, even as she ages. There's none of that business about old dogs and new tricks here. She changes and learns when she's ready to, and I think that's how we all are.
The other characters in the stories were interesting as well. They weren't only there to highlight an aspect of Olive's character, although they did serve that purpose too. Sometimes they had their own messages to share. I don't feel like I can say more without giving their short stories away.
I can see why this won a Pulitzer. It's a very enjoyable read with huge messages and themes packed in. There is so much to think over and discuss here. I recommend it for those in search of one of those books that will stick with you for a while. I know I'll be thinking about Olive for some time to come.
Similar Books:
If you liked Olive Kitteridge, you might also like my reviews of
Purchase:
Buy Olive Kitteridge from Malaprop's Bookstore in Asheville, NC.
I have an affiliate relationship with Malaprop's Bookstore/Cafe in beautiful Asheville, NC. I will earn a small commission at no additional cost to you if you purchase merchandise through links on my site.