---
I have an affiliate relationship with
Bookshop.org
and
Malaprop's Bookstore
in beautiful Asheville, NC. I will earn a small commission at no additional cost to you if you purchase merchandise through links on my site. Read more on my
affiliate page
.
---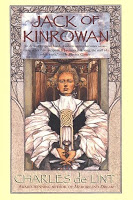 In Jack the Giant Killer, the first of two novels in this collection, Jacky Rowan has just realized that her life is not going where she wants it to go. She drifts along, refusing to take care of her life and just staying at home doing nothing. She decides to change her life after a nasty breakup. In a fit of pique, she goes out drinking alone. Staggering home, she sees a little man being chased by 9 men on motorcycles. She tries to help him, but the little man is killed. She runs to a nearby house to try to get help, but no one answers the door. She runs back to where the little man's body was, only to see it disappear, leaving behind only a red cap.
The next day, she almost convinces herself that the alcohol was just making her see things that weren't there, but she can't explain where she got the cap from. She puts it on and starts to see people straight out of Faerie. She eventually finds out that the Unseelie Court has been getting stronger and stronger and has actually stolen the local Laird's daughter. The Seelie Court is so weak that everyone is afraid to go in search of the poor girl. Jacky decides to just go looking herself. With a hob's stitcheries giving her invisibility and swiftness, the help of her best friend Kate, and a whole heap of a Jack's luck, Jacky sets out to set the local Faerie courts to rights.
I loved how Jack becomes Jacky in this story. Who says women can't be clever, lucky tricksters? She fills the role of Jack perfectly, coming up with ingenious solutions to problems and avoiding pitfalls in the tradition of the best fairy tales. I also loved how Jacky reached out and took control of her life. It obviously can be done, but it's usually easier to just keep going with the flow. It takes real bravery to make a real change.
What I have always loved about Charles de Lint is the way he weaves fantasy into modern life. Yeah, urban fantasy is common now, but de Lint was one of the earliest authors in the genre. Reading this for the first time years ago, I loved how urban Faerie have developed a tolerance for iron. And why wouldn't the Wild Hunt appear on Harleys? This is taking place in the 20th century after all. I just liked the idea that there is more to the world than meets the eye, and fairies are not fragile creatures who can only survive in the wilds. They would have to be adaptable.
I love Charles de Lint because of his characters. I can't say that Jacky and her friend Kate are some of my favorites, but I do love to read about their friendship. They are silly and brave and honest with each other, and neither would ever abandon the other.
The other novel, Drink Down the Moon, was not as strong for me. Jacky has gotten a little over-confident and makes some big mistakes. As a result, an evil force has wrought havoc on the wild faerie and has started causing big damage in her area of Faerie, Kinrowan. Kate is the true hero who realizes what's going on and starts acting on it.
There are two parallel plots throughout most of this story. I was most interested in Jacky and Kate's story. On a straight read, it gets a little old to read about the humans Johnny and Henk going through the same bewilderment that Jacky and Kate went through as they adapted to Faerie in Jack the Giant Killer. The books were published years apart and reprinted together later, so that's not entirely de Lint's fault.
The wild faeries that Johnny and Henk stumble onto are a little too belligerent and blood-thirsty for my taste. They have been through a lot, but it's not the humans' fault. I did like mercurial Jemi and her relationship with Johnny, but the rest were very angry and bitter.
So, 4 stars for Jack the Giant Killer and 3 stars for Drink Down the Moon. His Newford books are still my favorites, but this was a very strong entry in his body of work.
Read an excerpt.
Find author Charles de Lint on his website, Twitter, and Facebook.
Read for the Read Me Baby 1 More Time Challenge and for
Buy Jack of Kinrowan at
I have an affiliate relationship with Malaprop's, my local independent bookstore, and Better World Books. I will receive a small commission at no cost to you if you purchase books through links on my site.