---
I have an affiliate relationship with
Bookshop.org
and
Malaprop's Bookstore
in beautiful Asheville, NC. I will earn a small commission at no additional cost to you if you purchase merchandise through links on my site. Read more on my
affiliate page
.
---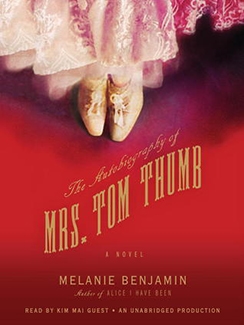 Title: The Autobiography of Mrs. Tom Thumb
Author: Melanie Benjamin
Narrator: Kim Mai Guest
Genre: Historical Fiction
Audience: Adult
Format: Audiobook
My Synopsis:
Mercy Lavinia "Vinnie" Bump was "a perfectly proportioned woman in miniature," reaching a height of 32 inches by adulthood (the quote is probably not exact since I listened to the audiobook). As a teenager, she realized that she could live a small life in her small town, becoming an old spinster and being forgotten shortly after her lonely death, or she could take advantage of her size to live a big life and leave her mark on the wider world. She chose the latter, journeying first on the Mississippi River as part of a floating "freak show" and then reaching out to the legendary P.T. Barnum and joining his American Museum.
My Review:
Vinnie had a fascinating life. She did actually marry Charles Stratton, "General Tom Thumb," who toured with P.T. Barnum from the age of 5 until his death. Vinnie started her career with the American Museum but after her marriage, she and Charles toured Europe, the US, and eventually the world. That trip would have been almost impossible for someone of "normal" size at the time (Vinnie's career launched shortly before the Civil War began), and it seems unimaginable that two little people managed it with their support staff. This is the part that I would have enjoyed reading more about, but true records of Vinnie's life are apparently scarce.
This was an introspective book, as a fictionalized "autobiography" should be, but the introspection is exactly the part that left me a bit disinterested. I feel this is entirely due to my mood; listening to this during stay-at-home orders during the COVID-19 pandemic might not have been the best choice. I've been struggling to find books that catch my interest while this has been going on, and the books that are working for me are more action-filled and for a younger audience. I keep trying other books though, and they keep not working out so great for me at this particular moment in history. Oh well. Life will find its new normal at some point, right?
The introspection and reflection just felt a bit repetitive. One of the first sentences of the book refers to Vinnie's guilt over the death of her sister Minnie, who was even smaller than Vinnie. Natually, Vinnie's thoughts return to her guilt and what she could have done differently to avoid Minnie's death over and over again. As a reader, I honestly just wanted to move on. And a small thing that annoyed me as I listened to the audiobook was the overuse of the word dreadful. I can't imagine this was overlooked by an editor and can only conclude that it must have been a favorite with the real-life Vinnie.
Vinnie comes across as being a bit of a cold-hearted realist. She marries Charles Stratton simply because he is also a little person and because she knows that their wedding will be the show of the decade. She also knows that childbirth is not something she would survive (she and Minnie were both normally-sized newborns), so she always keeps Charles at arm's length. A lot of her decisions are made with a business sense that appears to be as keen as that of P.T. Barnum himself. The only person who really seems to have her heart is her sister Minnie.
I had a bit of a difficult relationship with Kim Mai Guest's narration as well. Her voice was very soft and very high, which seems fitting considering who is telling the story, but that made it really hard to hear as I moved about rooms and did chores as I normally do while listening to audio books. I don't normally have that kind of trouble. That aside, I was happy enough with her performance.
Author Melanie Benjamin certainly chose a captivating subject with a lot of true material to work with, but unfortunately her approach didn't click with me at this point in my life. I certainly recommend it for others who enjoy historical fiction and who have better concentration than I do right now.
Purchase:
Buy The Autobiography of Mrs. Tom Thumb from Malaprop's Bookstore in Asheville, NC.
I have an affiliate relationship with Malaprop's Bookstore/Cafe in beautiful Asheville, NC. I will earn a small commission at no additional cost to you if you purchase merchandise through links on my site.