---
I have an affiliate relationship with
Bookshop.org
and
Malaprop's Bookstore
in beautiful Asheville, NC. I will earn a small commission at no additional cost to you if you purchase merchandise through links on my site. Read more on my
affiliate page
.
---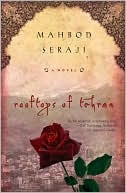 Pasha Shahed and his best friend Ahmed are 17 years old. Life might not be perfect, but they're happy. Ahmed is in love with Faheemeh, a beautiful girl from another neighborhood. Pasha is secretly in love with Zari, who has been engaged to Pasha's mentor/friend, Doctor, since birth.
It's 1973 and Iran is ripe for a revolution. The Shah is brutal about silencing any dissidents and he has the backing of the US. Doctor is a radical at heart. He disappears over the summer, supposedly to help improve the lives of remote villagers. He comes running back into the neighborhood late one night, chased by the Shah's secret police. A chain of events is set off that night that leads to heartbreak and agonizing choices.
First of all, I love this cover. Not only is it beautiful, but it fits the story perfectly.
I loved this glimpse into life in Iran. As an American, I have to say that we really never hear anything good about Iran. In our media, they're the bad guys who only want nuclear weapons to rain on our heads. Maybe that's a slight exaggeration, but there's a grain of truth there.
This is a reminder that people are people, no matter where we happen to live. I can't relate to Pasha's strict school teachers, or fear of speaking out, but I can relate to long, perfect summers, first love, and laughter with friends. I can relate to the importance that his family and friends play in his life. I understand the highs and lows of being 17 and learning that life isn't fair.
I loved the characters in this book. They were all high-spirited and loved each other. Ahmed with his irrepressible sense of humor may have been my favorite, but Pasha with his secret desire to be an author or filmmaker was just quieter. The girls, while not as repressed as I tend to think of Muslim girls as being, still didn't really have the opportunities that a Western girl has. In their own ways, they still managed to shine. To say more would give away spoilers, but these are two very brave female characters.
The book opens in the winter of 1974 with Pasha in a mental hospital. He doesn't know where he is or how he got there. The next chapter flashes back to the idyllic summer of 1973. Not knowing what happened to land Pasha in the hospital, but knowing that it must have been something bad, had my stomach in knots for him.
Everything catches up and makes sense about 2/3 of the way through the book. It felt like that should have been the climax of the book, but there was an awful lot of "dealing with the aftermath" still to go. I had a hunch about where everything was going to ultimately end up, so I was mostly reading at that point to see if I was right.
I could have wished for a more definite ending, but I was happy enough with the way it was. According to the author interview at the back of my book, he is planning a sequel, and I will definitely be looking for that to see what happens with Pasha and company.
Read an excerpt.
Find author Majbod Seraji on his website and Facebook.
I read this for the Middle East Reading Challenge on Helen's Book Blog.
Buy The Rooftops of Tehran on
I have an affiliate relationship with Malaprop's, my local independent bookstore, and Better World Books. I will receive a small commission at no cost to you if you purchase books through links on my site.