---
I have an affiliate relationship with
Bookshop.org
and
Malaprop's Bookstore
in beautiful Asheville, NC. I will earn a small commission at no additional cost to you if you purchase merchandise through links on my site. Read more on my
affiliate page
.
---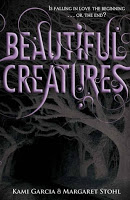 Sixteen-year-old Ethan Wate has been having nightmares for months. In his dreams, he's unsuccessfully trying to save a girl. Then Lena Duchannes, the first new girl to move into his small South Carolina town in years, shows up. He recognizes her as the girl from his dreams, and things only get more complicated from there.
Wow. That's probably the most coherent, non-spoilery thing I have to say about this. I was intrigued at first, wondering what was going on, but about a hundred pages in, this hooked me and didn't let go. It was kind of like going down the rabbit hole. The more I found out, the more questions I had and the more I needed to get answers. Sometimes that kind of thing can feel a little like the author is cheating, withholding information for the sole purpose of making you read more against your will, but Garcia and Stohl got it right. Ethan tells the story, and he's just as clueless as the reader, so the way the story unfolds felt very natural.
Lena was a fantastic character! I am loving these strong female characters that I'm finding in YA lately. She's stressed out, she's outcast, she never fits in, but she never gives up. It would be easy for her to wall herself off from the world, but she keeps going out there and opening herself up for more hurt, trying to have a life. She's not at all an average girl, but I think a lot of girls will relate to her. Unfortunately. We can't all be Miss Popularity at school.
I also loved Link, Ethan's best friend, and Macon, Lena's eccentric uncle. Link is unquestioningly loyal to Ethan and accepting of Lena, when it would be a lot easier to drop both of them in this small, close-minded town. Macon is consistently compared to Cary Grant. Need I say more?
There's not much I can say about the plot without giving the whole thing away, but I loved the direction it took. It was pretty unique in my reading experience, and I had to keep turning the pages. There's a second book in the works, but this one ended pretty well on its own. I'll be eagerly looking for the sequel, but I don't feel like I've been left at a cliffhanger.
I didn't love Ethan. I kind of did, but he was kind of just the guy telling the story. He didn't really have the personality that the other characters did. And honestly, I get a little tired of books that seem to think the South has never moved past the Civil War. Some of us haven't, but most of us have. I'm tired of being painted with that brush. Or maybe that's the difference between living in coastal South Carolina and the mountains of North Carolina. All I can say is that I've never once heard the Civil War referred to as "The War of Northern Aggression" outside of a novel.
That minor stuff aside, this was a page-turner of a book with a cast of characters that intrigued me. I recommend it if you like your YA dark and stormy.
I won my copy from Teddyree at The Eclectic Reader. Thanks, Teddyree! Check out her review.
The book refers to the town of Gatlin, SC as the "Home of the World's Best Buttermilk Pie." Believe me, I know how it sounds. But I am a recent convert to the awesomeness that is buttermilk pie, and as soon as I read that, I knew I had to give you guys a recipe. Unfortunately, my sister is reluctant to share hers online. So I dug around and found this one on http://www.squidoo.com
Sylvia's Famous Buttermilk Pie Recipe
* 2 cups sugar
* 1/2 cup butter
* 4 – 5 rounded tablespoons flour
* 3 eggs, beaten
* 1 cup buttermilk
* 1 teaspoon vanilla
* 1 unbaked deep dish 9 inch pie shell, or 2 regular unbaked 9 inch pie shells
Directions…
Cream the sugar and butter together. Add the flour and eggs and beat well.
Add the buttermilk and vanilla; mix well and pour into pie shells.
I find that the filling makes enough for two of the regular 9″ pie shells if you buy them frozen (I do sometimes; it's faster). If I use the deep dish version of the frozen pie shells, I can get it all into one shell.
Bake at 350 degrees for 45-50 minutes, or until tests done. Top should be slightly crusty and brown.