---
I have an affiliate relationship with
Bookshop.org
and
Malaprop's Bookstore
in beautiful Asheville, NC. I will earn a small commission at no additional cost to you if you purchase merchandise through links on my site. Read more on my
affiliate page
.
---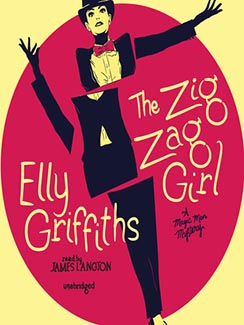 Title: The Zig Zag Girl
Author: Elly Griffiths
Narrator: James Langton
Series: Stephens & Mephisto Mystery #1
Genre: Historical Mystery, Mystery
Audience: Adult
Format: Audiobook
My Synopsis:
Brighton's Detective Inspector Edgar Stephens is called to the train station where a dead body has been found in the "left luggage" area. Well, two-thirds of a body, anyway. With each third in a separate trunk. When the missing third is delivered to the police station, addressed to "Captain" Edgar Stephens, his rank when he left the army, the inspector starts to think this might be a bit personal. The murder reminds him of a magic trick that his old friend Max Mephisto used to do as part of his show. The two men served together in WWII in a secret unit known as "The Magic Men." Edgar calls on Max, who just happens to be in Brighton for the week, and the two set about solving the mystery together.
My Review:
I've never read any of Elly Griffiths' other mysteries but this one was good. I had a vague guess as to "whodunnit" but I didn't really know why or how. There was a more personal twist at the end that did surprise me quite a bit. I like surprises.
But somehow the whole novel felt a bit gray. DI Stephens seems to have PTSD and he's not really happy with anything in his life. He's a smart guy but he doesn't seem to be all that great at detective work. His heart was broken during the war and he's never gotten over it. He's living in a ratty flat and doesn't really seem to do much that he enjoys. He's just existing. He seems like a genuinely nice guy so I wanted him to snap out of it and start doing something–anything!–that made him happy.
Max's character takes a bit of a back seat to Edgar, which was unfortunate because he's the more entertaining one. He's a born magician even though he was actually born to the aristocracy. He's a charming womanizer who tries to pretend that he's heartless. He does have a big heart though and he goes out of his way to help his friends and acquaintances. I don't even remember how he was described in the book but I honestly kept picturing him as Inigo Montoya from The Princess Bride movie, a character I adore, so that helped I'm sure!
I mostly liked James Langton's narration. The voices he used for females were breathy and made all the women sound like airheads even though they weren't. Otherwise he was solid.
All in all, I enjoyed this mystery but I don't think I'll be chomping at the bit to continue the series. Readers who are bigger mystery buffs than I am should enjoy it more.
Similar Books:
If you liked The Book of Awesome, you might also like my reviews of
Purchase:
Buy The Zig Zag Girl from Malaprop's Bookstore in Asheville, NC.
I have an affiliate relationship with Malaprop's Bookstore/Cafe in beautiful Asheville, NC. I will earn a small commission at no additional cost to you if you purchase merchandise through links on my site.