---
I have an affiliate relationship with
Bookshop.org
and
Malaprop's Bookstore
in beautiful Asheville, NC. I will earn a small commission at no additional cost to you if you purchase merchandise through links on my site. Read more on my
affiliate page
.
---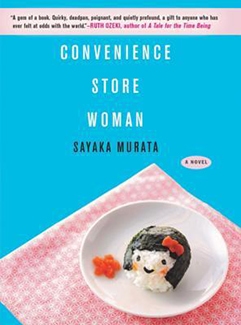 My Synopsis:
Keiko Furukura has never quite fit in. Behavioral norms baffle her. When she's young and two boys are fighting in the schoolyard, she hits one over the head with a shovel to break up the fight. She can't understand why her teachers and parents are upset because it was a successful tactic–the fight ended.
So when she lands a job working in a convenience store in college, she's happy. The store looks clean and fresh, like a fish bowl. Her manager gives her a script to work from when dealing with customers. Cold drinks sell on hot days and warm drinks sell on cold days. Life is predictable. Eighteen years pass and society is again pressuring her, asking when she's going to get a "real" job, get married, start a family. She's puzzled again, wondering why a life that makes her happy is being judged so negatively.
My Review:
I wasn't quite sure to what to expect when I downloaded this book from the library but I liked it. It's quirky and funny but there's a lot of substance lurking beneath the exterior.
I won't hazard a guess as to what might be "wrong" with Keiko but she really doesn't think like most other people. But is that bad? She isn't hurting anyone, she's fulfilled by her job, she doesn't feel any urge to be intimate with anyone, so why can't others leave her alone? Why does her family want to "cure" her? She doesn't even understand what she needs to be cured of.
This slender book left me with a lot to ponder. Why can't we as a society leave the nonconformists alone? Why do we label jobs as "real" or not? Shouldn't we see any job that fills a need as a "real" job? And Keiko made me see the beauty of any job done well.
This book won't be for everyone because not a lot actually happens. But if you want to see the world through the eyes of an outsider, give it a try.
Similar Books:
If you liked Convenience Store Woman, you might also like my reviews of
Reading Challenge:
Purchase:
Buy Convenience Store Woman from Malaprop's Bookstore in beautiful Asheville, NC or
---