---
I have an affiliate relationship with
Bookshop.org
and
Malaprop's Bookstore
in beautiful Asheville, NC. I will earn a small commission at no additional cost to you if you purchase merchandise through links on my site. Read more on my
affiliate page
.
---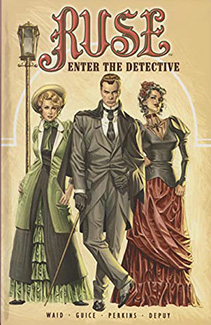 Emma Bishop works to both help and protect her investigative partner, Simon Archard, as they look into the connection between a dockman's death and a shipment of a mysterious narcotic powder, leading them to newcomer Miranda Cross.
My Review:
This graphic novel reminded me of a mashup between Sherlock Holmes stories and the TV series Penny Dreadful. It seems like an odd mix at first but it absolutely worked for me. I liked that the narrator of the story is a woman who is not all that she seems to be. I'm very curious to know more about her. The Sherlock character, Simon Archard, was an arrogant SOB who doesn't really see everything that Emma does for him. I love the artwork with one caveat–the buxom ladies with the wasp waists. We have a strong female character in Emma but that's undermined a bit with this very stereotypical comic treatment of women. This was published in 2002 so there's really no excuse. *sigh*
There's also a fantasy element in the first storyline that really disappears in the following chapters. I'm curious if it will come back. Also, my copy was almost impossible to read when the text was just on either side of the spine. It disappeared into the fold. The book didn't appear to be damaged and repaired but that is a possibility. Other copies may not have this problem.
This was a fun graphic novel and I hope to come across the sequel one day.
Recommended by:
I'm pretty sure this hit my radar after Nicole at Bookwyrm Knits mentioned it.
---