---
I have an affiliate relationship with
Bookshop.org
and
Malaprop's Bookstore
in beautiful Asheville, NC. I will earn a small commission at no additional cost to you if you purchase merchandise through links on my site. Read more on my
affiliate page
.
---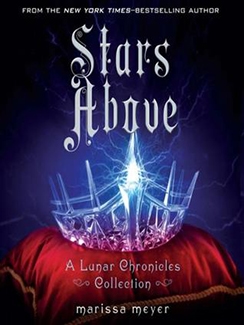 The universe of the Lunar Chronicles holds stories—and secrets—that are wondrous, vicious, and romantic. How did Cinder first arrive in New Beijing? How did the brooding soldier Wolf transform from young man to killer? When did Princess Winter and the palace guard Jacin realize their destinies? With nine stories—five of which have never before been published—Stars Above is essential for fans of the bestselling and beloved Lunar Chronicles.
My Review:
I needed these Lunar short stories to get some closure after the emotional turmoil of Winter. (I was so angry at Levana that I almost gave up on the book. It was that torturous). When I realized that this book was happening, I jumped on it as soon as I possibly could at the library. Most of the stories are prequels to Cinder, but there is one that's simply set in the same world, and another that's a true sequel to the series.
I would recommend reading this anthology after reading the other novels in the series, but definitely pick it up if you've enjoyed them. It was a nice way to check in with and say goodbye to characters that I've grown ridiculously attached to.
Possible spoilers for the series
"The Keeper" details how Michelle Benoit came to have care of both her granddaughter, Scarlet, and a young, comatose Cinder. I have always wished that we'd gotten to see more of Michelle in the actual series, so this story was a nice addition.
"Glitches" describes Cinder's trip to the Eastern Commonwealth with Garin and her reception in his household. I've read this story somewhere before. I liked reading about a young Cinder but I can't say that I felt the need to listen to it again.
"The Queen's Army" is about Wolf being torn from his loving family and transformed into an (in)human killing machine. Or not. Wolf's story has always broken my heart a little bit and this only made me feel worse for him.
"Carswell's Guide to Being Lucky"–I wish I could remember what he told us about his past with Kate because this is about his first meeting with her. I know he tells the story in one of the books but the details are long gone from my memory. Still, a young Captain Thorne is every bit as irrepressible as you would expect him to be.
"After Sunshine Passes By" left me incredibly angry at Levana again. A young, sweet, trusting Cress is chosen for a special assignment by Lady Sybil. I was almost in tears at the end.
"The Princess and the Guard" expands on one small story from Winter's life and explains why she chose to stop using her Lunar Gift. I can't make up my mind exactly how I feel about Winter or Jacin, but I did respect Winter more after listening to this story.
"The Little Android" was my second-favorite tale from the collection. None of the main characters show up in this Lunar retelling of "The Little Mermaid" but I appreciated the way that Meyer stayed so very true to the original story.
"The Mechanic" describes Cinder and Kai's first meeting from Kai's point of view. These two are so cute together that I just loved it.
"Something Old, Something New" was my absolute favorite entry. In this sequel, Scarlet and Wolf are getting married and I am finally, finally getting the happily-ever-after that I so desperately needed to read!
Similar Books:
If you liked Stars Above, you might also like my reviews of
Purchase:
Buy Stars Above from Malaprop's Bookstore in beautiful Asheville, NC or
---