---
I have an affiliate relationship with
Bookshop.org
and
Malaprop's Bookstore
in beautiful Asheville, NC. I will earn a small commission at no additional cost to you if you purchase merchandise through links on my site. Read more on my
affiliate page
.
---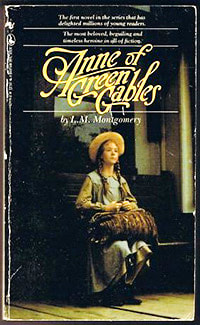 My favorite book growing up was Anne of Green Gables by L. M. Montgomery. It's still one of my all-time favorite books. I have to confess that the first time I tried to read it, I thought it was boring. I'd seen the movie somewhere and grabbed the book at the library, and I think the language was just a little too difficult for me at the time. I couldn't have been ten years old.
But I tried once again, and that time I fell in love. I wanted to be friends with "Anne-with-an-e" and the ever-loyal Diana and share in their adventures. If I'm honest, I still want to be friends with them! They just became real to me.
My family used to go to the beach every summer, and there was this one little bookstore that always had a big selection of L. M. Montgomery books. My library only had the first two Anne books, so it became a tradition for my mom to take me to that bookstore so I could get one or two more of Montgomery's books to read. I was always impatient for more, but now I'm glad I got to stretch all those books out over such a long period of time. The anticipation was delicious. One of the books, Jane of Lantern Hill, was actually out of print, so I didn't complete my collection until I was somewhere in my twenties and my husband bought that one for me online. I was thrilled!
I don't have any new-to-me L. M. Montgomery books to look forward to now, but I've re-read everything she wrote countless times, and I get something new out of them every time. I'm thinking it's getting to be time to do another re-read.
Synopsis from GoodReads:
As soon as Anne Shirley arrives at the snug white farmhouse called Green Gables, she is sure she wants to stay forever. . . but will the Cuthberts send her back to the orphanage? Anne knows she's not what they expected – a skinny girl with fiery red hair and a temper to match. If only she can convince them to let her stay, she'll try very hard not to keep rushing headlong into scrapes and blurting out the first thing that comes to her mind. Anne is not like anybody else, the Cuthberts agree; she is special – a girl with an enormous imagination. This orphan girl dreams of the day when she can call herself Anne of Green Gables.