---
I have an affiliate relationship with
Bookshop.org
and
Malaprop's Bookstore
in beautiful Asheville, NC. I will earn a small commission at no additional cost to you if you purchase merchandise through links on my site. Read more on my
affiliate page
.
---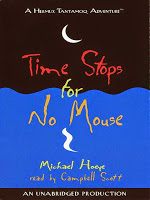 Hermux Tantamoq is a quiet, rather shy watchmaker who just happens to be a mouse. His world is turned upside down when the lovely Linka Perflinger walks into his shop and asks him to repair her watch. She never returns to pick it up, even though it seemed to be important to her. When a suspicious-looking rat comes in asking for it, Hermux knows Miss Perflinger must be caught up in something dangerous. He sets out to find her and save the day.
I liked Hermux a lot. I think he and I would get along splendidly. Give us a pot of tea and some doughnuts and we'll quietly talk, or just sit and enjoy each other's company. He felt like a kindred spirit.
His community was interesting as well. There's the gossipy mail lady, the gruff cafe owner, the bossy neighbor, and the reporter who seems to be everywhere. I enjoyed reading about them all.
When it came down to the mystery, I did figure out some parts that were featured in a journal. But I was truly surprised when one part directly affecting Hermux was revealed! I knew something was up but I didn't know it was that!
I wished for a slightly different ending but I was happy enough with the one we got. I guess it leaves more room for sequels.
Campbell Scott narrated well, though not brilliantly, but he does get points for not stumbling over these tongue-twisting names!
Boys and girls in the 8-10 age range should enjoy this gentle hero and his intriguing mystery.
Find author Michael Hoeye on his website.
Buy Time Stops for No Mouse at
I have an affiliate relationship with Malaprop's, my local independent bookstore located in beautiful downtown Asheville, NC; and Better World Books. I will receive a small commission at no cost to you if you purchase books through links on my site. My opinions are completely my own.