---
I have an affiliate relationship with
Bookshop.org
and
Malaprop's Bookstore
in beautiful Asheville, NC. I will earn a small commission at no additional cost to you if you purchase merchandise through links on my site. Read more on my
affiliate page
.
---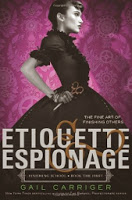 Sophronia Temminick is a tomboy in Victorian England. The youngest of innumerable sisters, she is left alone to pretty much do as she pleases. What pleases her is climbing dumbwaiter shafts, spying on her sisters, and generally acting in ways not becoming to a lady. When she is packed off to finishing school one day, she is not pleased.
She quickly realizes this is not just any finishing school. Mademoiselle Geraldine's staff trains young women in "The Fine Art of Finishing Others." These are lessons Sophronia can enjoy. Distraction, poison, espionage, subterfuge–she enjoys it all. But there is a serious plot afoot and one of Sophronia's classmates seems to be at the heart of it. Sophronia is determined that she and her friends will discover the secret.
I just adore Gail Carriger's books and her young adult series does not disappoint. Some authors writing YA for the first time will dumb down their writing but Ms. Carriger is most definitely not guilty of that. She writes with all the wit she normally employs, she just happens to be writing about teenagers. I tore through the book, grinning all the way through.
I enjoyed seeing a few characters from The Parasol Protectorate in this new series. They're younger and, of course, more inexperienced, which made it all the more entertaining. The forbidding Lady Kingair as an awkward adolescent and the inscrutable Genevieve Lefoux as a mischievous scamp were endearing.
Sophronia is every inch the formidable heroine I expected her to be. She's young and makes some mistakes but she's also practically fearless and loyal. She makes friends in unusual places and doesn't seem to have any prejudices. She just takes people as they are. Her friend Dimity is hilarious! Of course there are mean girls in her class and they are fun to hate.
If you enjoyed The Parasol Protectorate, you should enjoy this series as well. If you haven't tried either yet, what are you waiting for?
Read an excerpt.
Find author Gail Carriger on her website, her blog, and Facebook.
Buy Etiquette & Espionage at
I have an affiliate relationship with Malaprop's, my local independent bookstore located in beautiful downtown Asheville, NC; and Better World Books. I will receive a small commission at no cost to you if you purchase books through links on my site. My opinions are completely my own.