---
I have an affiliate relationship with
Bookshop.org
and
Malaprop's Bookstore
in beautiful Asheville, NC. I will earn a small commission at no additional cost to you if you purchase merchandise through links on my site. Read more on my
affiliate page
.
---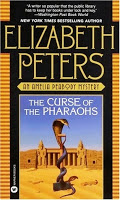 *Possible spoilers for Crocodile on the Sandbank*
Amelia Peabody and Emerson have married and had a son, Ramses. They've decided to stay home in England with him and live a quiet life, at least until he's older. They're both going slowly crazy. Emerson has been reduced to practically begging the neighbor to let him dig in his barrow. Then an opportunity in Egypt presents itself that they just can't turn down. Leaving Ramses with his aunt and uncle, they take off.
Someone is determined to undermine the expedition. Emerson was called in because the original financial backer of the dig was found dead under mysterious circumstances and the chief archaeologist has disappeared. The mysterious events continue under Emerson's supervision, as do the deaths.
I didn't like this book quite as much as the first, but I still enjoyed myself immensely. I remembered how much I like Amelia Peabody, but I had forgotten why. I knew she was a practical woman who had no qualms about taking charge but I forgot how often she messes things up. Not that she would ever admit it. But she's fierce in her love of Egypt and Emerson and she unintentionally left me giggling.
The rest of the characters were a hoot too. I adore Emerson and, despite his legendary temper, he must be a bit of a saint to put up with Amelia. He orchestrated one scene that had me howling with laughter. I didn't know Emerson had it in him! Madame Berengeria, a crazy widow who attaches herself to their party, positively cracked me up. I would have been tempted to wrap my hands around her neck in person but on the page–! I love that Emerson is practically terrified of her. There are several young men flocking around Madame Berengeria's daughter but I have to admit that I had trouble keeping their names straight. One was a persistent reporter who manufactured news when he needed it. I didn't like him at all at first but I came around. The other two were kind of forgettable until one sets himself well apart late in the book. Oh, and while I'm at it, I cannot wait to see more of little Ramses. He may be the match of Amelia and Emerson combined. I can't imagine what kind of holy terror he's going to be.
I never had any idea how the mystery was going to turn out, I just enjoyed the wit as I turned the pages.
I recommend this series for anyone who likes a healthy dose of humor mixed in with their mysteries and an indomitable female lead.
My review of the first in the series, Crocodile on the Sandbank
Find author Elizabeth Peters on her website.
Be sure to check out the Amelia Peabody page.
Buy The Curse of the Pharaohs at
I have an affiliate relationship with Malaprop's, my local independent bookstore located in beautiful downtown Asheville, NC; and Better World Books. I will receive a small commission at no cost to you if you purchase books through links on my site.