---
I have an affiliate relationship with
Bookshop.org
and
Malaprop's Bookstore
in beautiful Asheville, NC. I will earn a small commission at no additional cost to you if you purchase merchandise through links on my site. Read more on my
affiliate page
.
---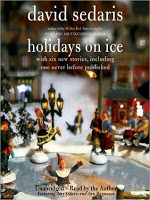 I tried, but I give up.
The first story, "Santa Land Diaries," was great. Sedaris's tale of working as a Macy's department store elf is hilarious! Those people who inevitably make the news every Black Friday by pepper spraying and punching their fellow shoppers? I think they all go to Macy's at Christmas. Sedaris writes about them with his usual biting wit. My favorite scene had to be when he gets fed up with this awful Santa who keeps making him sing Christmas carols with the kids. Sedaris sings "Away in a Manger" in Billie Holiday style. I have never heard anything like it in my life, but it is absolutely perfect. You have to listen to the audio for that alone! I was cracking up alone in my car! There are a few poignant moments as well, especially from one Santa who likes to remind people what Christmas is really all about. One of the local theaters does a stage production of this story every year, and my husband and I have always been curious about it. We will definitely be going to see it next year.
Oh, but then.
The second story, "Season's Greetings to Our Family and Friends," was horrible. Absolutely horrible. It's supposed to be a spoof of a Christmas letter gone horribly wrong. Something's gone horribly wrong alright–Sedaris's attempt at fiction. I kept listening, thinking it had to get better, but it just kept getting worse and worse. Disturbing only starts to cover it. I wish I could scrub that half-hour listen out of my brain. For real. This one was told from a woman's point of view, so it's read by David's sister, Amy Sedaris. I have to admit the tone and reading were absolutely perfect for the story, but it set my teeth on edge. I can only describe it as "rich bitch" and few accents will raise my hackles faster. That definitely did not improve my reaction to the story.
I attempted the next one, but, having a big chip on my shoulder about the word hillbilly and the attendant stereotypes that go with it, I was hugely offended by the way the fictional narrator was talking down to these people. I moved on after about five minutes.
When the next story was a drama critic's scathing review of children's Christmas productions, I just turned the whole thing off in disgust.
The elf story was definitely worth a listen, but I personally can't recommend any of the other stories.
Read an excerpt.
Find author David Sedaris on Facebook.
Buy Holidays on Ice at
I have an affiliate relationship with Malaprop's, my local independent bookstore located in downtown Asheville, NC; and Better World Books. I will receive a small commission at no cost to you if you purchase books through links on my site.