---
I have an affiliate relationship with
Bookshop.org
and
Malaprop's Bookstore
in beautiful Asheville, NC. I will earn a small commission at no additional cost to you if you purchase merchandise through links on my site. Read more on my
affiliate page
.
---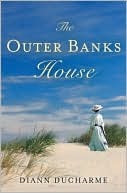 Abby Sinclair is the neglected daughter of a plantation owner. Three years after the end of the Civil War, she is still mourning the loss of her uncle and her family is still adjusting to the loss of their slaves. When her father decides to move the whole family out to the Outer Banks of North Carolina for the summer, Abby is excited to see the ocean for the first time. Something about the wildness of the ocean stirs up a wildness that had almost been lost in herself. And then she meets "Banker" Benjamin Whimble, a dirty, uneducated young man who nevertheless has something to teach her.
I loved the descriptions of the Outer Banks in the 1860s. It's hard to think of them as they are now, crowded with houses up to the water's edge in places, and read about how no one built close to the water in this time period because of the harshness of the storms. At the very beginning, Abby runs clear across Nags Head from the sound to the ocean, finding nothing but sand on the way. I'm thinking about the traffic, outlet malls and shops and restaurants, and the Wright Brothers Memorial that she would meet today. "Progress" is of course inevitable, but reading something like this makes me wonder if it's worth the cost.
I liked watching Abby come into her own. The loss of her uncle, who was more truly her father than her father is, has left her reeling. She's withdrawn and bookish, and she's starting to be pushed around a little too much by her parents. She slowly and believably starts to regain her old confidence and to even make some surprising decisions for herself.
I liked Benjamin a lot. He sees the world clearly through his intense blue eyes. He has ambitions for more than just the hand-to-mouth life most Bankers have. He also doesn't suffer from a false sense of modesty. He knows his strengths and weaknesses and he knows his own value. When he wants something he goes for it. Plus, he's pretty cute.
His character is the biggest thing that knocked this back to three stars. After developing such a great character, he all of a sudden starts to act completely out of character. There's a reason given, but I can't buy him choosing the course of action he follows for any reason at all. And if he did, I can't imagine him living easily with the consequences. This is hard to write without giving anything away, so I'm probably not making any sense.
I think this will appeal most to those who are interested in the post-Civil War time frame and those who are in love with the Outer Banks.
Thanks to Crown Publishing for sending me an ARC for review via Shelf Awareness.