---
I have an affiliate relationship with
Bookshop.org
and
Malaprop's Bookstore
in beautiful Asheville, NC. I will earn a small commission at no additional cost to you if you purchase merchandise through links on my site. Read more on my
affiliate page
.
---
The Princes of Ireland follows the story of several Irish families, from the year 430 to 1538. Their stories are set against the larger backdrop of important battles and events in the history of Ireland.
This really felt like three novels in one. The transitions between generations were very abrupt. I liked the first story, but the other two were just okay. They could have been part of a book entitled, A History of the English in Dublin. It was interesting to see what Kings Henry II and Henry VIII got up to in Ireland, but I really wanted to know what was going on in Ireland itself.
The female characters were terrible. They were almost all willful to the point of stupidity, impetuous, blind to anything they didn't want to see, and driven by some insane need for revenge.
One other thing that bothers me in all books that skip around in time: if the author isn't going to give me some sort of obvious clue like, "Forty years later, Henry VIII did this…", I really wish that he or she would put dates at the beginning and end of the chapters. I find myself flipping back and forth a lot, because after 60 pages, I've forgotten what year I was in last.
This was good enough, I just expected something different. If you want to know a little about Ireland as it changed from a druidic religion to Catholicism, and a lot about the way the English influenced events in Dublin, go ahead and read this. Just don't expect a lot of independent Irish history.

Reviewed August 17, 2009
Read an excerpt.
Find author Edward Rutherfurd on his website, Facebook, and Twitter.
Buy The Princes of Ireland at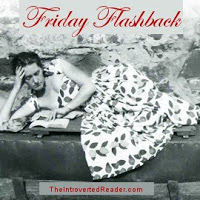 Friday Flashback Reviews are a weekly feature here on The Introverted Reader. These are old reviews I wrote on GoodReads. Thanks to Angieville and her Retro Friday Reviews for the inspiration and encouragement!
I have an affiliate relationship with Malaprop's, my local independent bookstore located in beautiful downtown Asheville, NC; and Better World Books. I will receive a small commission at no cost to you if you purchase books through links on my site.