---
I have an affiliate relationship with
Bookshop.org
and
Malaprop's Bookstore
in beautiful Asheville, NC. I will earn a small commission at no additional cost to you if you purchase merchandise through links on my site. Read more on my
affiliate page
.
---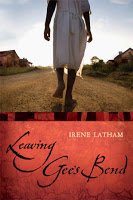 Ludelphia Bennett is worried about her mom. After several miscarriages, Mama finally seems to be carrying a baby to term. But she is coughing a lot and looking weaker every day. When the baby comes early, Ludelphia doesn't know what to do. She asks their neighbor, Etta Mae, for help. But Etta Mae has a bad reputation since she came back to the little town of Gee's Bend, and everyone thinks she made things worse instead of better. When Mama gets sicker and sicker after the birth, Etta Mae challenges ten-year-old Ludelphia to go for help–in the next town over. Does Ludelphia have what it takes to leave Gee's Bend and make it back?
There is more to little Ludelphia than you would think at first glance. She has lived in the microscopic town of Gee's Bend all her life, but out of love for her mother she is willing to journey alone to the next town. Of course she meets unforeseen obstacles along the way, but she ultimately meets them head-on with all the grace she can muster. She must be a beautiful quilter as well. Her quilting is what helps her to think clearly. She accumulates little pieces of cloth along the way to make a quilt for Mama when she gets better. Each piece will tell a part of the story of her journey.
I really liked the sense of community that the people of Gee's Bend shared. Of course they didn't all get along, but they looked out for each other and shared the little they had.
My one complaint isn't even about the book itself. I read the Author's Note as well, and apparently this book is loosely based around some true events in the town's history. I would have liked a little more of an explanation about what happened. I'm sure I can go look it up on Wikipedia or something, but it would have been nice to have it right there in the book.
For a story about a memorable character set in a small community, give this one a try.
Read an excerpt.
Find author Irene Latham on her website, her blog, Facebook, and Twitter.
Read for the Southern Literature Challenge I'm hosting.
Buy Leaving Gee's Bend at

I have an affiliate relationship with Malaprop's, my local independent bookstore, and Better World Books. I will receive a small commission at no cost to you if you purchase books through links on my site.