---
I have an affiliate relationship with
Bookshop.org
and
Malaprop's Bookstore
in beautiful Asheville, NC. I will earn a small commission at no additional cost to you if you purchase merchandise through links on my site. Read more on my
affiliate page
.
---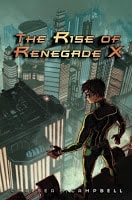 Damien Locke is the son of the Mistress of Mayhem, a mad scientist supervillain living in Golden City. On his sixteenth birthday, he has a huge party to celebrate his thumbprint becoming a "V," meaning that he's a born supervillain. Except that it doesn't. It becomes a mythical "X," which can only mean one thing: his dad must be a superhero. Where does that leave Damien?
I had a lot of fun reading this! Damien might not be the most scientific supervillain, or the strongest, but he is definitely clever and creative, a combination that leads to some ingenious plans. But he also felt like a normal teen. He freaks out when his whole life plan and everything he knows about himself is thrown into question. He hides them well, but he has some insecurities. He's sarcastic but tries his best to be a good boyfriend and friend. Girls baffle him but he keeps trying. If he makes up his mind that he's got a reason to get revenge on someone, he takes it in ways that are totally unpredictable and frequently hilarious. He just can't help caring about the people around him in spite of himself.
I liked the way that this adventurous superhero story can also be read as a story about choices. Just because your parents are good or bad doesn't mean that you have to follow in their footsteps. Just because you think that you were born to be one thing doesn't mean that you can't at least try doing something else.
The other characters were great too. Kat was so totally random and fun and well-developed. She messes up before the story even begins and she feels awful about it. Sarah is just a geek to the rest of her school, but Damien finds out that she's brilliant and loyal. The supervillains didn't spend a lot of time being villainous, but they were great villains when they wanted to be.
There's a little bit of a love triangle, and I can see it happening under the circumstances, but the book would have been just as good if not better without it. But we all know that I am sick and tired of love triangles.
The superhero/villain thing had me thinking this might be more a middle grade book. Now that I've read it, I would put it firmly in the YA section. There's nothing graphic in the book, but Damien is a pretty normal 16-year-old guy, and what do teen guys think about? You got it. He just makes a few innuendos about sex and nothing serious happens, but it is in there.
I highly recommend it for the young adult and adventure-loving adult crowd! It was just a lot of fun and I enjoyed every minute of it.