---
I have an affiliate relationship with
Bookshop.org
and
Malaprop's Bookstore
in beautiful Asheville, NC. I will earn a small commission at no additional cost to you if you purchase merchandise through links on my site. Read more on my
affiliate page
.
---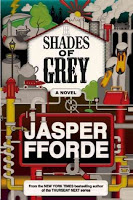 In the future, after the Something That Happened, people's places in society are determined by the color they can see. Purples are the ruling class and Greys are sort of the untouchables. Eddie Russett is a bit of a rogue. He thought of a new idea for queuing and new ideas are frowned upon. After a prank, he is sent to live on the Outer Fringes, where he meets Jane, a Grey with a bewitchingly retroussé nose and a reputation for violence. His fascination with Jane leads him to start questioning what he sees going on around him.
I see potential here, but this first book in the series mostly felt like world-building to me. There's plenty of stuff going on, but I really did feel like it was mostly just to show me how very screwed up this society is. That said, let me tell you a couple of things about me that you should probably know.
I'm not crazy about dystopian literature as a whole. If an author writes an exciting story with characters that I like, (think The Hunger Games), I'm fine with dystopias. But I don't love them just because they're set in a world where things have gone wrong.
Also, I don't know anything about color theory. I love Jasper Fforde's sense of humor in the Thursday Next series and the Nursery Crimes series, but that's probably because I'm on solid footing with books and nursery rhymes. People who know more about color than me might get more out of this book, just like I'm going to understand more of the humor in The Eyre Affair than a non-reader.
I do see potential for me to ultimately like the series. Eddie is a likable chump who is on his way to becoming much more, but Jane is a character that I think I'll really, really like. We just aren't told a whole lot about her in this book. It's really just enough to want to know more.
I'll continue on, and I still love Jasper Fforde, but if you're picking up his work for the first time, I don't think I would recommend this one. So far I prefer his other two series much more.