---
I have an affiliate relationship with
Bookshop.org
and
Malaprop's Bookstore
in beautiful Asheville, NC. I will earn a small commission at no additional cost to you if you purchase merchandise through links on my site. Read more on my
affiliate page
.
---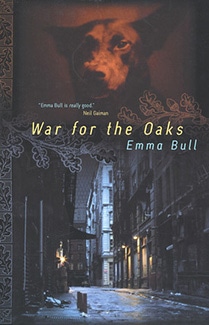 Eddi McCandry is a rocker with a big heart. She attracts the attention of the Seelie Court and her life is turned upside down.
I absolutely loved this. If you know me, and maybe if you don't, you know that Charles de Lint is my favorite author. This is something very much in the same vein as de Lint's best work. I don't mean that it's a knockoff, it's just something that I enjoyed for a lot of the same reasons that I enjoy de Lint.
These characters were awesome. They're people (or not) that I would love to know in real life. Eddi is a talented, creative musician with a true gift. She's not perfect, but she's big enough to apologize when it's necessary. She can take charge when that's necessary too. She gives her all for her friends and refuses to give up even when everyone else is telling her that what she wants to do is impossible. Her friend Carla is much the same way, except possibly even more loyal and more likely to give her friends a figurative kick in the pants when they need it. Willy, oh Willy. What a heart breaker. And that's all I'll say about him. But the star of the show is the Phouka. Can you say book crush? He's funny, sarcastic, dashing, romantic, a rebel, strong, tough, just enough of a bad boy, and he's learning more about what it means to be human. I adored him. I wasn't too sure about him at first, but he grows throughout the book, and we get to know him better, and I was a fan for life by about the halfway point. Love him.
Even aside from the characters, the story was a page-turner. I was supposed to be training a new employee as I read this, and he just would not stop talking. (Okay, I was not slacking. The guy was in his final week of training and he didn't need it. We had absolutely nothing to do. I had listened to his same stories umpteen times already. I wanted to get on with this story.) I managed to be polite and listen to him, but the whole time I was sitting there wondering what was going to happen next, hoping that the trainee would need a bathroom break soon and I could read a little more about what was going on with Eddi, the Phouka, and the Seelie Court. That's probably terrible to admit, but there you go. Read it when you won't be interrupted. 🙂
So, this is a new favorite. If you like fantasy and great characters, pick this up. You'll be sorry if you don't.