---
I have an affiliate relationship with
Bookshop.org
and
Malaprop's Bookstore
in beautiful Asheville, NC. I will earn a small commission at no additional cost to you if you purchase merchandise through links on my site. Read more on my
affiliate page
.
---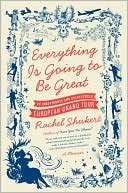 After college, Rachel Shukert ended up working for free for a well-known experimental theater director. The play took a brief tour of Europe, and Rachel was thrilled when she found out that her passport had not been stamped. That meant she could stay in Europe as long as she wanted without a visa, since no one officially knew she was there. Setting out to "find herself," she ends up living with two of her gay best friends in Amsterdam, jobless, but more than willing to try out the local booze and dating scene.
I'm not the right reader for Everything is Going to be Great: An Underfunded and Overexposed European Grand Tour. Call me a prude if you want, but I somehow (thankfully) avoided the stage of life that Rachel Shukert describes in her memoir. I don't understand the appeal of drinking until you end up in the hospital, or waking up with a man you met for the first time the night before. So when I ran into both things within the first few pages of this memoir, I knew this wasn't going to be a book that I connected with.
If you did go through this stage, perhaps you'll enjoy this memoir more than I did. It is funny, but, like I said, I just didn't really connect with what Rachel was going through inflicting on herself.
The book is well-written, and I did end up cheering for Rachel in the end, but the lifestyle described in the pages is a turn-off for me.
Thanks to Harper Perennial for sending me a copy for review.