---
I have an affiliate relationship with
Bookshop.org
and
Malaprop's Bookstore
in beautiful Asheville, NC. I will earn a small commission at no additional cost to you if you purchase merchandise through links on my site. Read more on my
affiliate page
.
---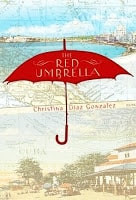 Lucía Álvarez is your typical teenage girl. She has a crush on cute Manuel, she and her best friend Ivette are interested in all the latest fashions and movies, and she's trying to fit in at school. So when Fidel Castro cancels classes, her only thought is enjoying her unexpected freedom. She slowly realizes how dangerous things are becoming in her country. Finally, her parents break the news that Lucía and her younger brother Frankie are being sent to America, where they don't know anyone, all alone.
My father-in-law is Cuban and he was about Lucía's age when he left Cuba on one of the so-called Pedro Pan flights. He was fortunate to have family waiting for him in America. Because of him, I am fascinated by this country's history. To think that my father-in-law lived through a revolution and is part of a community that still in large part considers themselves to be exiles 50 years later. It just blows my mind. So when I came across this book, I knew I had to read it.
I loved it. It works precisely because Lucía is the girl next door. There's nothing that really stands out about her, and I don't mean that in a bad way at all. She's a nice girl just trying to grow up and worrying about her first dance. Most of us can probably relate. As the revolution insidiously intrudes on her life, she is horrified and terrified. She sees things that no 14-year-old girl should see.
And then she's in America alone with her seven-year-old brother. She speaks very little English and doesn't know anyone. So now there's the immigrant experience as she learns about a new culture and new people and tries her best to fit in at a new school. And she's still trying to grow up the best she can. She's also worried about her parents back home in Cuba, who are standing out because they aren't supporting the revolution. Dangerous choices.
The title The Red Umbrella is absolutely perfect. I thought it was kind of odd at first, but it's quickly explained and becomes one of the book's major themes. Its symbolism almost had me in tears a few times.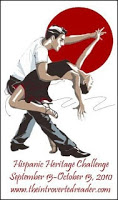 It was scary to see how Castro indoctrinated the children of Cuba so quickly. Seven-year-old Frankie already had some unusual ideas from his teachers at school. Parents were pressured into sending their children to volunteer to teach other children out in the country. This was really just an excuse to teach Castro's ideals to impressionable children/teens away from their parents for the first time. Lucía's friend Ivette has a difficult story arc to read. She's so young, how is she supposed to stand against this ideology being pushed at her on all sides?
I read Carlos Eire's memoir, Waiting for Snow in Havana: Confessions of a Cuban Boy several years ago and enjoyed that look into Cuban life during the revolution. I related to The Red Umbrella a little easier because it's told from Lucía's point of view. I'm all about the girl next door, but I don't have much in common with overly-rambunctious boys telling the same story.
I loved this and highly recommend it. Not only for the history, but also to meet likable Lucía and to see how she deals with her new home.