---
I have an affiliate relationship with
Bookshop.org
and
Malaprop's Bookstore
in beautiful Asheville, NC. I will earn a small commission at no additional cost to you if you purchase merchandise through links on my site. Read more on my
affiliate page
.
---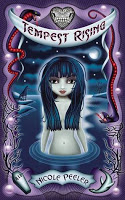 Jane True is practically an outcast in her small town of Rockabill, Maine. She finds solace in swimming in the ocean, dangerously close to the whirlpool known as The Old Sow. When she finds a body in the water, her world changes beyond all recognition.
The big draw for me was the cover. I love it! It does make the book like it might be YA though, and it is not YA. Sex. Lots of sex. Need I say more?
This was a lot of fun, and I really liked Jane, her problems and her world. There's such a wealth of supernatural beings to choose from out there, it's nice to see an author taking advantage of that rather than dwelling on the vamps and weres.
I don't know if I just had to get used to Peeler's style or if the beginning really was an info dump, but I was a little disappointed when I first started. I've been looking forward to reading this for a while, and I did not expect to be less-than-thrilled at the beginning.
Jane's Libido killed me. It was practically a character, hence the capitalization I gave it. It's pretty clear what part of Jane is thinking, "This guy's super-hot!" without being told that it's her Libido. Or her Lady Bits. Or whatever. There should be a supernatural rock band called "Jane's Libido" worked somewhere into the series! Hee hee! I obviously think I'm funny. 😉
Jane is pretty funny. I laughed out loud pretty consistently throughout the book. Her descriptions of some of the "supes" she meets are hilarious, and I could appreciate her self-deprecating sense of humor. When she meets Trill the kelpie, my husband finally gave up and asked me what I was laughing at. Mostly he tries to ignore me when I go into gales of laughter for no obvious reason. (Now you're wondering how often that happens, aren't you?)
Mostly though, I just had fun reading this and checking out this world. Ryu is just hawt and I really, really, really want to find out more about Anyan. I knew what was going on there pretty early on, but I still want to know more. I'm definitely going to continue on with the series. I do recommend this. Just be prepared for Jane's Libido.